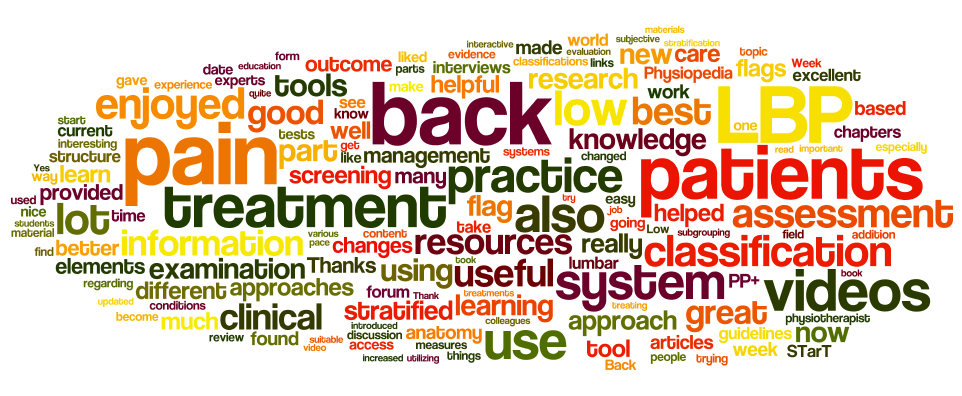 Between October 5th and 1st November 2015 the Physiopedia team ran the first "live" course within the new Physiopedia Plus (PP+) site on the very important subject of low back pain. This 4 week course included an overview of relevant anatomy and function, lumbar conditions, examination and treatment with a particular focus on stratified care. The course was a great success with over 300 participants from over 20 different countries and provided a more intimate and focused version of the experience provided by the much larger scale open courses run previously (spinal cord injury and amputee rehabilitation courses). This low back pain course remains available to all existing and new PP+ subscribers to be completed whenever is appropriate for their busy schedules. It's not too late, you can become a subscriber and complete this course today! Watch this space for news of the next "live" PP+ course which will be running in early 2016.
Below is a quick overview of some of the details and statistics gathered from the 2015 low back pain course.
The low back pain course content includes:
7 video interviews with low back pain experts including Chad Cooke, Nadine Foster, Jonathan Hill, John Childs, Peter O'Sullivan and Mark Hancock.
14 forum posting activities.
6 quizzes.
16 hours of required learning activities with a wealth of optional reference materials and activities.
Statistics from the course participation:
308 participants
Over 20 countries represented including Afghanistan, Australia, Bangladesh, Burundi, Canada, Ethiopia, France, Guyana, India, Iraq, Jamaica, New Zealand, Nigeria, Pakistan, Peru, Saudi Arabia, South Africa, UK, USA, West Indies, Zimbabwe.
1921 posts made to the forum.
8600 learning activities logged.
2200 PP+ points awarded.
100 course evaluation forms submitted.
18 optional course assignments submitted.
To date 98 participants have completed the course and been awarded a certificate.
Feedback from participants:
99% of participants found the course an enjoyable experience and would recommend the course to colleagues.
90% of participants reported they would make changes to their clinical practice as a result of the course.
Quotes (the word cloud at the top of this post has been created from the feedback responses of course participants):
I am amazed with the high quality of the online courses. All the content of the courses are evidence-based and have excellent videos, articles and guidelines. I really recommend Physiopedia courses!
This is one of the best courses that I ever took. I think that every physiotherapist who wants to enhance his knowledge about treating Low Back Pain should take this course.
Whaoo!!! This was a really great course!
It was great to be able to participate at my own pace without having a scheduled lecture or deadline. I liked the variety of different learning tools; such as videos, discussion points, articles and quizzes. Above all it was a neat experience to connect with PTs across the world.
A thoroughly engaging course with appropriate content and pacing. A great challenge!
This is the very best and interactive form of learning ever. Long live Physiopedia!
As a junior physiotherapist from Uganda where resources are scarce, I always yearned for accessible up-to date practical information concerning management of back pain. I am humbled to be part of PP+ which has enabled me access excellent information at the very time when I need it most.
Your efforts to present a balanced view of the research literature and expert opinions was much appreciated as is the mix of interviews, articles and book chapters. Each week I walked away with clinically relevant learning that translated readily into practice. It was also quite useful to get the perspectives of practitioners across the globe through the forum.
The forum is a wonderful place to listen and learn from other physiotherapists all over the world