I am a Physiotherapist from India. I presently work as a Clinical Therapist as well as a Researcher in a well-renowned Rehabilitation centre. I graduated, Bachelors of Physiotherapy from Government Institute of Rehabilitation Medicine, KK Nagar, Chennai, TN, India.
Recently published posts by Joshua Samuel:
MSD among Physiotherapists !!...
January 14, 2014

By Joshua Samuel
Musculoskeletal Disorder among Physiotherapists is an evolving area of concern as Physiotherapists spend most of their manual effort for their treatment purpose. Be it shifting the patient from one position to other or while performing [Read More...]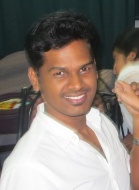 Research Activities with RECOUP Neuromusculoskeletal...
November 30, 2013

By Joshua Samuel
I am Joshua Samuel R, Physiotherapist, presently working as an Assistant Manager in the Research & Development department of RECOUP Neuromusculoskeletal Rehabilitation Centre, India. My core interest subject is into [Read More...]