Recently, 4th – 6th December, I presented a paper at the HWWE 2013, International Conference on Ergonomics and Human Factors http://vidyasagar.ac.in/seminar/hwwe2013/. The following information is regarding the outcome of the research which was carried out among a group of Hand-held device users reporting musculoskeletal problems.
Hand-held devices are those devices which are used for communication and entertainment purposes such as audio or visual media, internet access and gaming. In the present decade, there has been a steep increase in the mobile phones market associated with increasingly cheaper rates. Also the multiple usability options and applications available in the miniature devices encourage the users to engage most of their time with their hand-held device.  A recent report stated that about 70.72% Indians use a mobile phone (Sept 2013).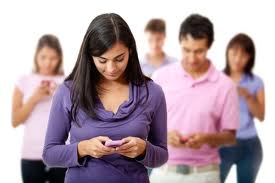 Texting is the most widely used mobile data service, being used by 74% of all mobile phone users worldwide owing to an increase in the mode of communication other than voice with services like SMS (short message service), Whats App, Viber, LinkedIn, BBM (blackberry messenger), FB Messenger and Twitter, which is the latest trend. According to a BBC report, almost 19 billion messages were sent per day using chat apps and 17.6 billion SMS messages in 2012. These numbers are expected to climb steeply in the near future.
Literature reports an adverse impact on the physical and psychological health of the users of mobile and other information technology. Studies have revealed a high incidence of musculoskeletal disorders (MSD) of hand, wrist, forearm, arm and neck due to prolonged, forceful, low amplitude, repetitive use of such devices. Sustained gripping, repetitive movements with the thumb and fingers and wrist position have all been identified as risk factors for MSD in hand-held devices. A relation between the device design and anthropometry of the user in causing discomfort and fatigue in hand, elbow and shoulder while using the hand-held device has been postulated.
Based on these, our retrospective study among 59 subjects who reported pain and musculoskeletal problems by the use of their hand-held device revealed the following important features:
Among them, around 49% were using touch screen smart phones while 35% were using the Blackberry.
Right side was affected more (58%) compared to left side (20%) and bilateral (22%).
Common symptoms: Pain in thumb and forearm with associated burning; Numbness & tingling around thenar aspect of hand; stiffness of wrist and hand.
The common diagnosis found for all of them were of Tendinosis of EPL and MPS of 1st interossei, thenar muscles & EDC.
A significant positive correlation was found between the hand dominance, predominant usage of thumb while texting and occurrence of upper extremity MSD.
(The Research was done @ RECOUP by Joshua Samuel Rajkumar, Deepak Sharan, Mathankumar Mohandoss, Rameshkumar Ranganathan, Jeena Jose)
Hand-held devices that promote the predominant usage of thumb are associated with a higher prevalence of MSDs and users are advised to select models that are designed to permit typing with all the fingers. This will pave way for recommending appropriate design of hand-held devices and improving user friendliness according to the anthropometry of the users.
However we cant stop using our hand-held devices as they seem nowadays almost as one of our body parts.
So "use it with care", a statement not only for your Device, but also for "yourself"..
"So always have in mind what you have in your hand, because who knows what your little companion (Mr.Mobile or Ms.Tablet or Mrs.Wii) can end you up with"..