As a team committed to education and improving global health, Physiopedia have been keen to explore ways to help address the growing shortage of UK student placements. In a recent platform presentation at the World Physiotherapy Congress 2023 an innovative solution of hosting virtual non-patient facing student placements was presented.

Student placement hours are a graduation requirement for physiotherapy students in many countries, including the UK, where students need 1,000 placement hours to graduate. Traditionally student placements have been sought in a clinical environment, however workforce shortages and the recent pandemic have made it difficult to provide enough opportunities.
In this platform presentation, Kim Jackson (Physiopedia Manager) outlined an innovative approach to providing virtual non-patient-facing student placements. Students on the programme focussed on a core task of developing content for the Physiopedia site – specifically in creating a template for novel content that is suitable for sharing with patients (in support of the existing content for rehabilitation professionals). Through undertaking a scoping review, developing a survey and  presenting their ideas, students on the programme were able to demonstrate activities in each of the four pillars of Physiotherapy practice – clinical practice, education, leadership and research. In addition, through the mentorship of a multicultural and diverse team of physiotherapists outside of the UK, the students gained a unique understanding of global and cultural differences in the delivery and expectations of patient care. 
By incorporating innovative approaches, we can continue to advance physiotherapy education and practice for the benefit of both students and patients, while ensuring that the future of physiotherapy remains strong and adaptable, better meeting the needs of an ever-changing healthcare landscape – Kim Jackson
This project demonstrated the potential of virtual placements to provide unique learning opportunities that complement traditional clinical experiences and prepare students for successful careers beyond direct patient care.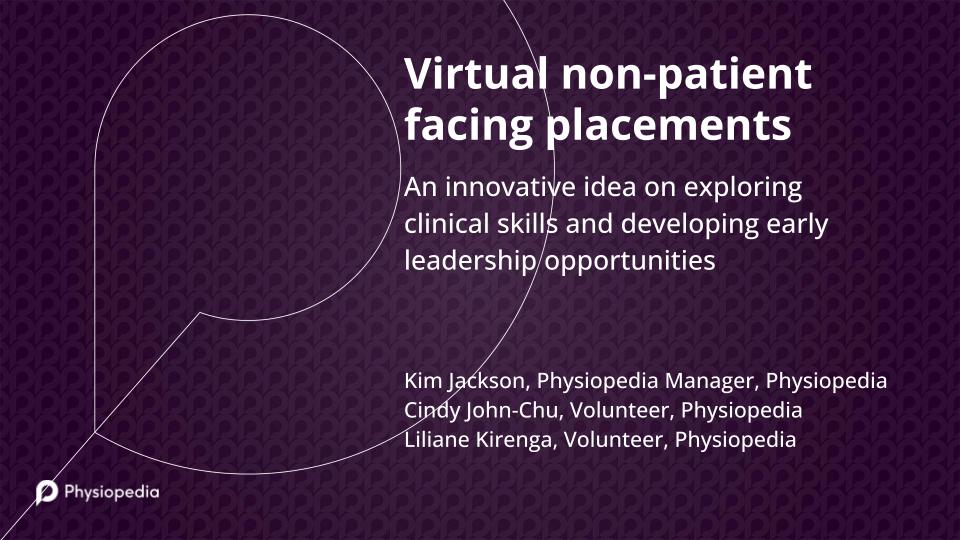 This platform presentation was first presented at World Physiotherapy Congress 2023 (PL-0706 on Saturday 3 June) by Kim Jackson on behalf of the authors, Kim Jackson (Physiopedia Manager, Physiopedia), Cindy John-Chu (Volunteer, Physiopedia) and Liliane Kirenga (Volunteer, Physiopedia).