Enhance your interdisciplinary practice with a detailed understanding of posture and how it relates to speech, signing and swallowing.
Everything you learn in this course will transform your understanding of what's possible when Physiotherapists and Speech and Language Therapists work together. We've specifically made this programme to enhance MDT collaboration.
The knowledge and techniques you'll gain from taking part is ready to use immediately in any setting, everything is easily adopted to sitting or standing positons. If you're wondering why that's improtant to know you'll have to take part to find out.
The Tutor – Mauro Banfi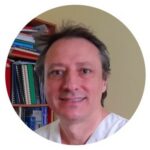 Mauro Banfi is a Physiotherapist since 1992 and Osteopath since 2000. Mauro works as a professional Osteopath and Physiotherapist in the field of sport, acrobatic and performing arts with a particular interest in artistic voice problems, in cooperation with speech therapists, ENT specialists and conservatories of music.
For well over two decades he provides sessions and courses for performers, manual therapists, osteopaths and speech therapists to improve their manual skills in the treatment of the patient artist.

The Programme – Postural Principles for SLT & PT
The Courses – Three Course Programme