This is the most comprehensive series of pelvic girdle and sacroiliac dysfunction courses you will find anywhere on the internet.
Sacroiliac dysfunction affects an estimated 10-30% of persons with non-specific low back pain and is often present with complaints of hip and leg pain on the same side. It often goes undiagnosed and may actually be one of the sources of low back pain.
Pelvic girdle and sacroiliac pain affects 56-72% of women during pregnancy and post-partum and 7% continue to have pain and dysfunction for the rest of their lives. Physiotherapists are best suited to help these patients.
In this new programme of courses Deborah Riczo will take you through the Pelvic Girdle Musculoskeletalsm (PGM) Method and will give you the tools to simply, effectively and accurately manage your patients with pelvic girdle dysfunction (PGD).
The Tutor
Dr Deborah Riczo is a specialist in pelvic girdle /sacroiliac dysfunction, pregnancy/postpartum issues, women's health, and breast cancer.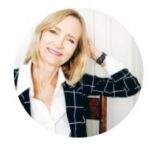 Deborah Riczo is a renowned speaker and author on pelvic girdle/ sacroiliac pain and dysfunction. She is a licensed Physical Therapist in the State of Ohio and has BS Physical Therapy and Med Sports Management degrees from Cleveland State University and a DPT from Marymount University.
Deborah is a leading expert in the evaluation and treatment of sacroiliac/pelvic girdle pain and dysfunction. She is also a specialist in pregnancy/postpartum issues, women's health, and breast cancer. Deborah is the author of two books on these topics. In 2011, Deborah founded Riczo Health Education and developed continuing education courses for therapists in her specialist areas. She also teaches sacroiliac/pelvic girdle dysfunction at the doctoral level, through webinars, and at state and national conferences.

The Programme
The Courses
Foundational Knowledge
The Pelvic Girdle Musculoskeletal Method