Frailty is a clinical state that is associated with increased risk of falls, harm events, institutional care and disability. There are several tools used to assess frailty including the Clincial Frailty Scale and Freid's Phenotype Model. Understanding the degree of a patient's frailty can be the deciding factor between recieving or witholding care. This is particuarly true in the light of COVID-19 and the allocation of limited resources.
Explore Frailty with Scott Buxton
The Clinical Frailty Scale (CFS) is the recommended tool to use in acute settings to assess a patients frailty. However in most places around the world, outside geriatrics / frailty services, few clinicians recieve formal training on frailty scoring.
The inter-rater reliability of the CFS is generally very good however a number of biases may play a role in scoring especially with clinicans who are inexperienced using the scale. In light of this a new classification tree to improve CFS scoring by inexperienced raters has been created.
Methods
The aim of the study was to assess the intra-rater reliability between a clinical frailty scale classification tree and clinical frailty scale scoring by novice and expert raters in 115 older adults.
This was achieved by using a prospective design study in a Emergency Department. Frailty scoring took place once the patients had been referred to specialty and a compehensive geriatric assessment had been completed.
After the assessment an expert frailty clinician assigned the patient a clinical frailty score. For 104 of the patients a novice frailty clinician scored the patient independently from the expert. For 11 patients only the expert scored them as they were assessed outside of the Hospital environment.
After completing the judgement-based scoring after the assessment, the frailty scale was scored separately using the classification tree (seen below). The classification tree is essentially a step by step guide to assessing a patients independence, multi-morbidity, fatigue and activity levels.
The beauty of the tool is that the questions are based on each level of the clinical frailty scale and links each level to a simple question asked in routine examination / assessments. Therefore no specialist training is required.
The scores of the novice an expert clinicians were compared using intraclass correlation coefficients (ICCs) and 95% confidence intervals (CIs). ICC is a way assessing the reliability of the scores and describes how strongly units in the same group resemble each other. For this type of tool a score of 0.70 or more indicates good interrater reliability.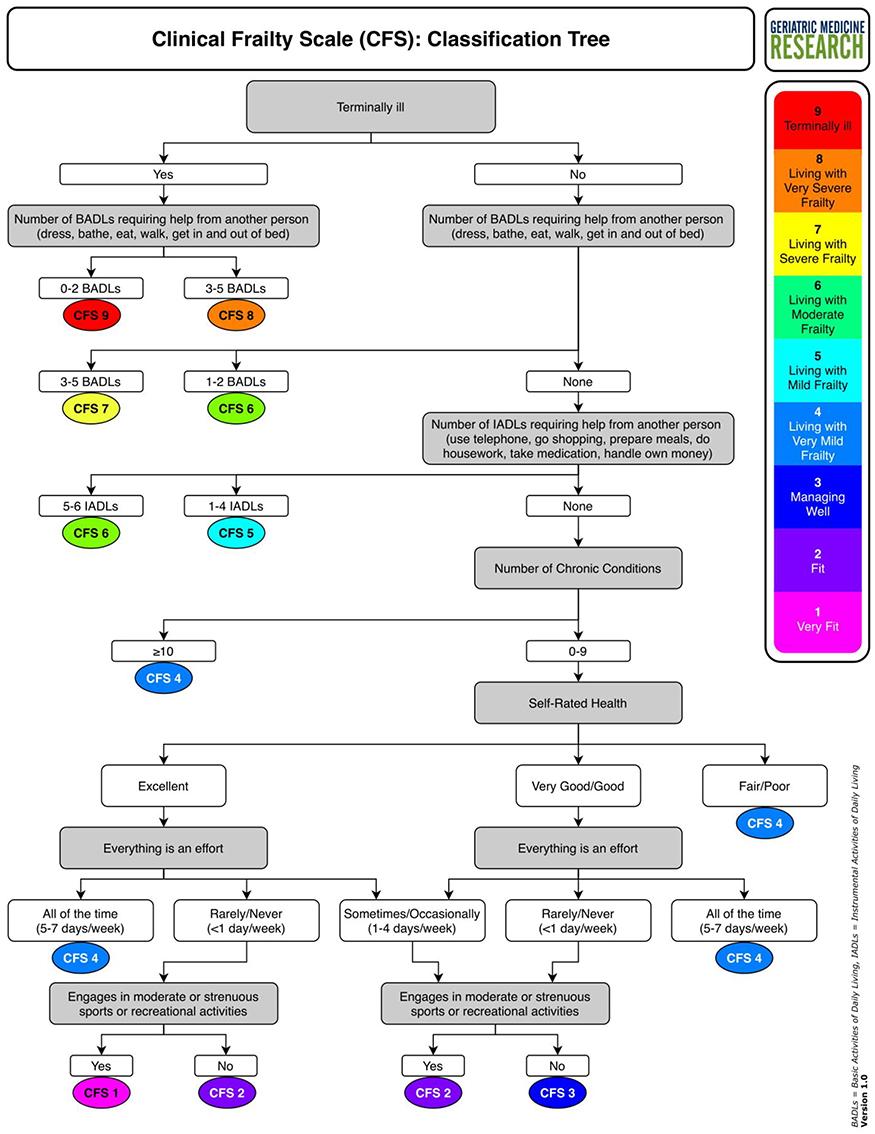 Results & Clinical Implications
Overall agreement for the CFS classification tree was good with an ICC score of above 0.800 when compared to both expert and classification tree and novice and classification tree scoring.
Most classification tree scores were either the same or differed by one level when compared with the other raters. This is acceptable for most cases however when small differences in scoring could determine whether or not someone recieves care stricter measures  should be used.
This discrepancy likely arises from the complexity of patients living with frailty and the inability to translate this complexity into decision trees. Ascertaining relevant details from these complex cases at a time of acute illness is difficult and this can influence the classification.
This classification tree does not replaced the CGA rather it is designed to be a useful tool for novice frailty clinicians to assess frailty in clinical practice. Understanding the degree of a patient's frailty is important to prognostication and any tool to aid clinicans assessment of frailty should definitely be considered.
That being said this is a single-site study with a small sample size with only a few raters. Even though the study was adequately powered to detect intrarater reliability with the classification tree further validation needs to be sought particularly across sites.