With the information and evidence surrounding the coronavirus pandemic constantly changing it can cause confusion and misinformation. This is why we have put together a simple easy-to-use guide to ensure you stay on top of what you need to know.
Contents of The Guide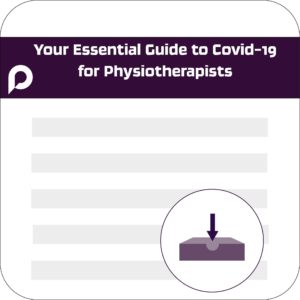 Free COVID-19 e-books Powered By Physiopedia
These are Physiopedia's first ever eBooks. The PP team is quite a lot smaller than most people realise so putting something like this together alongside our usual jobs and PP tasks is no mean feat. Kim Jackson is the content manager at Physiopedia and she has been the driving force behind the eBooks creation.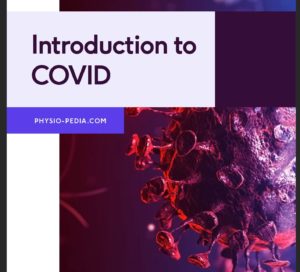 "2020 has been a year to remember, the COVID-19 pandemic brought many changes to the delivery of Physiotherapy and a steep learning curve for many.  With social distancing and the temporary closure of many services we had to find another way to deliver services, mainly through platforms such as Telehealth."
"For others it meant adapting their skills and knowledge to cope with this new respiratory disorder, whilst there where others who spent time re-skilling to help out in areas that were completely overwhelmed and understaffed. But one thing 2020 did show us was the resilience of Physiotherapists, their ability to adapt their skills and also their willingness to work as a part of a team, both within our discipline and as part of multi-disciplinary teams. COVID-19 really has been a challenge both on a personal and professional level."
Kim says that everyone at Physiopedia has recognised the importance of keeping abreast of all the new developments and many interventions that COVID-19 has demanded of us. The PP team have created many new pages to guide clinicians and these complement the Physioplus courses to ensure a well rounded learning experience for clinicians. The fact that all of these resources are available for free is even better and something the whole team is proud of.
The first ebook is An Introduction to COVID-19 and the second is COVID-19 Rehabilitation Programme. Access these two eBooks by completing the form below, to make sure you have all the knowledge you need about COVID-19, wherever you are. Even without an internet connection.
You will be able to download the eBooks shortly to make sure you have all the knowledge you need about COVID-19, wherever you are. Even without an internet connection.
The Essential Physiopedia Pages
Kim has also selected her top Physiopedia COVID-19 resources for you. These pages are continually updated by the Physiopedia Team to ensure you have the best evidence based content available to you.
These are the top pages for a reason. They contain evidence based facts and information written in an easy to digest way for you to implement in clinical practice. These pages cover everything you need to know from pathophysiology, lung x-ray changes and rehabilitation to PPE, your role as a physiotherapist and ventilation settings. These are your go-to resources to remain on top of the newest changes in the evidence.
Don't forget you can download the Physiopedia App to access these pages quickly on and offline .
Free COVID-19 Courses on Physioplus
Currently there are 21 Physioplus courses related to COVID-19. All created by topic experts with each sharing with you how the coronavirus has affected their speciality and disseminating the information to you via high quality video and testing your knowledge with quizzes and articles. Many of these courses have been translated into different languages too!
The courses are available for free until the end of 2020.
The courses are free until the end of 2020 and then they will be available to all full paying members of Physioplus. Undoubtedly the Physioplus Team will continue to update the courses and upload new courses as the evidence changes.
To get access to the courses all you have to do is sign up for a trial account. Be quick as time is running out!
Covid-19 Youtube Playlist
Physiopedia's mission is to improve global health through universal access to physiotherapy knowledge. COVID-19 hasn't put a stop to that – it's strengthened our resolve to make sure we keep our community up to date with everything they need to know through every channel we can. This includes Youtube.
These Youtube videos are a mixture of interviews and presentations covering a wide range of topics from leadership and crisis management to clinical management of respiratory patients. Thank you to all of the clinicians who gave up their time to create the content. The whole #GlobalPT community are thankful for your time but remember, these videos aren't just for us so make sure you share them to your colleagues.
The videos in the playlist include:
Leadership during times of COVID-19 with Emma Stokes
Crisis management with Jason Giesbrecht
COVID respiratory treatment considerations with Rachel Moses and Deborah Dent
Nutritional considerations with Joe Tatta
Treating tendinopathy during lockdown with Ebonie Rio
Staying safe with handwashing techinque and cleaning with Liezl Naude
We will have new and original Youtube content coming out in 2021 so make sure you don't miss out. Subscribe and hit the alarm button to get notified when we release our new content. The Physiopedia team is super excited with what we are working on so don't miss out! We'd love you to be a part.
COVID-19 Rehabilitation
There are two distinct patient groups affected by the pandemic: those who need rehab because of the virus and those whose services are affected because of the virus. Any rehabilitation strategy in the time of COVID must therefore address both COVID-specific rehabilitation needs and the needs of those who require rehabilitation for reasons other than COVID infection.
Failure to do so risks inequity of access to rehab for large numbers of people, and a failure to deliver effective rehabilitation to those deconditioned or otherwise in need risks worse outcomes for those who become unwell with COVID-19 in future pandemic waves. It is therefore essential that rehabilitation programmes and proactive management resume as soon as possible. This will minimise adverse outcomes for people living with long term conditions, those with gradual functional decline and those requiring rehabilitation after elective or emergency hospitalisation.
Below is a list of the best resources and guidelines from around the world to help you make sure your services are covid safe as far as possible.
Long COVID
Long Covid has been preliminarily defined by NIC), the Scottish Intercollegiate Guidelines Network, and the Royal College of General Practitioners, as the presence of signs and symptoms that develop during or following an infection consistent with COVID-19 which continue for 12-weeks or more and are not explained by an alternative diagnosis.
This includes both ongoing symptomatic COVID-19 (from 4 to 12 weeks) and "Post-COVID Syndrome" (12-weeks or more).
The rapid and dynamic review of Long Covid evidence by the National Institute for Health Research (NIHR) suggests that Long Covid may be made up of 4 phenotypes:
post-intensive care
post-viral fatigue
permanent organ damage
long-term COVID
Consensus has not yet been reached on an internationally agreed Long COVID case definition, however there is mounting evidence that Long COVID is both common and debilitating. Attempts have been made to characterise Long Covid as prolonged with multi-system involvement and significant disability.
The best way to prevent these symptoms is to prevent getting COVID-19 in the first place. This means adhering to social distancing and wearing PPE whenever possible. There is some evidence to suggest that persistent viraemia due to weak immunity, deconditioning and PTSD are all contributing factors to developing long covid.
Long Covid Resources on Physiopedia
World Physiotherapy and The COVIDPhysio Registry
World PT Day took place on the 8th of September and the theme for this year was COVID-19 rehabilitation, something which will continue to be at the forefront of our minds for months and years to come. On the World Physiotherapy website there is a COVID-19 information hub which contains all of the PT day outputs and materials in the COVIDPhysio Registry.
Our profession is uniquely placed to step up and contribute to the challenge and help our most vulnerable people regain independence and quality of life in ways we have never seen before. Although it is easy at this stage to have COVID-19 fatigue and the thought of seeing and creating more resources is exhausting, this is our time to rise to the challenge. Make sure you check the COVIDPhysio Registry to promote collaboration and avoid duplication in effort.
Additionally there are high quality educational resources for both staff and patients all of which are available for free.
Frailty & COVID-19
Older people who are living with frailty don't respond to coronavirus in the same way as younger people. This is partly why many older people who are admitted to hospital go on to become asymptomatic postive cases and inadvertedly spead the disease to others on the wards.
At this stage we all know that the typical symptoms of COVID-19 are predominantly respiratory symptoms (cough, sputum, sore throat, runny nose, ear pain, wheeze and chest pain), systemic manifestations (myalgia, joint pain and fatigue) and enteric presentation (abdominal pain, vomiting and diarrhoea). Due to frailty and age-related physiological and immunological changes older people often present without these typical / classic symptoms.
Immune scenecence is one of the key drivers for atypical presentations along with the multi system dysregulation involved in the frailty process. If your body systems aren't working together properly you don't have a typical response to homeostasis or infection. It makes the situation unpredictable.
Deep Dive into Frailty with Scott Buxton
A recent study published in Age and Ageing has shed some light on atypical presentations in the elderly who are living with higher levels of frailty or live in care settings. Of the patients included within the study the most common COVID-19 symptoms were hypoactive delirium, falls, anorexia and fatigue. Mortality for fully atypical presentation was 65% and median LoS was 11 days for those that survived.
For more information on how COVID-19 affects people living with Frailty the British Geriatric Society has a  a COVID-19 resource hub.
News and Social Media Top Follows
The evidence around COVID-19 is constantly changing and that's why Physiopedia recommends keeping up to date with the latest developments via Physiospot and reputable news outlets and experts on social media.
We asked our Physiopedia community to tell us where they go to find out about the latest coronavirus developments where they are in the world.
Our community's top follows include:
How will the #COVID19 vaccine reach you?
Dr @Kate_L_OBrien explains in #ScienceIn5 ⬇️ pic.twitter.com/VkHJ7AVTUv

— World Health Organization (WHO) (@WHO) December 5, 2020
Coronavirus Myth Busters
Myth busting at a time like this is crucial and there are some excellent articles out there on the internet. Always make sure it is from a trusted source and author and seek evidence to back up people's claims. Instagram and Twitter are excellent sources of quick and up-to-date evidence and infographics however the good is interspersed with misinformation.  Make sure you are vigilant and if it sounds sensationalist or too good to be true, then it probably is. Below is a list of truths and the resources they have come from. Make sure you know all you need to know as a physiotherapist.
Does alcohol gel kill COVID-19? – Yes.
Are surgical face masks useful? – The leading thought at the moment is that COVID is transmitted via droplets which means masks are useful at collecting these droplets. Clearly this isn't infallible because droplets can still be transmitted through eyes and onto your skin and transferred to your face later. Also it's worth pointing out surgical masks are useful in close proximity to people only.
There is also lots of misinformation about the size of the virus and the filtering ability of masks. An infographic allegedly from Unicef has been doing the rounds on WhatsApp and Twitter which claims the coronavirus is 400-500nm wide and therefore enough to be stopped by masks. This is actually untrue and the virus is 50-200nm wide. Either way as explained above, a mask won't always stop the virus.
What's The Incubation Period for COVID-19? – The WHO report this being somewhere between 1 and 14 days with symptoms most commonly emerging after 5 days. This is where the 14 days of self-isolation comes from.
How Long Does The Virus Live On Surfaces – There is no exact answer to this question. The current thought is that COVID-19 behaves like other corona viruses and will persist on surfaces for a few hours up to several days but there is some evidence to say up to 28 days on surfaces like your phone. This is a broad timespan but this is because it is all dependant on environmental conditions which vary massively even within a persons home. The sensible advice is to disinfect surfaces regularly if you think they may be contaminated.
The WHO have some awesome Infographics available which you should definitely share amongst patients, colleagues and friends. Here is one busting the myth that dousing your body in chlorine or alcohol will kill the coronavirus.