The SA Society Of Physiotherapy will be holding its 2018 Congress at the Saint George's Hotel and Conference Centre, Doornkloof (Pta) from the 14 – 16 September 2018.
The Preliminary Programme is now available for you to see and begin to plan your visit to the SASP Conference on the 14th-16th September. There is plenty to do at the event and much to learn thanks to the top quality line up. We'd definitely recommend making time to stay for the whole event.
Make the Most of the Conference!
What's even better is that The SASP have taken it to the next level thanks to their extensive Pre-Programme Courses list. Take a look:
Dr Jeremy Lewis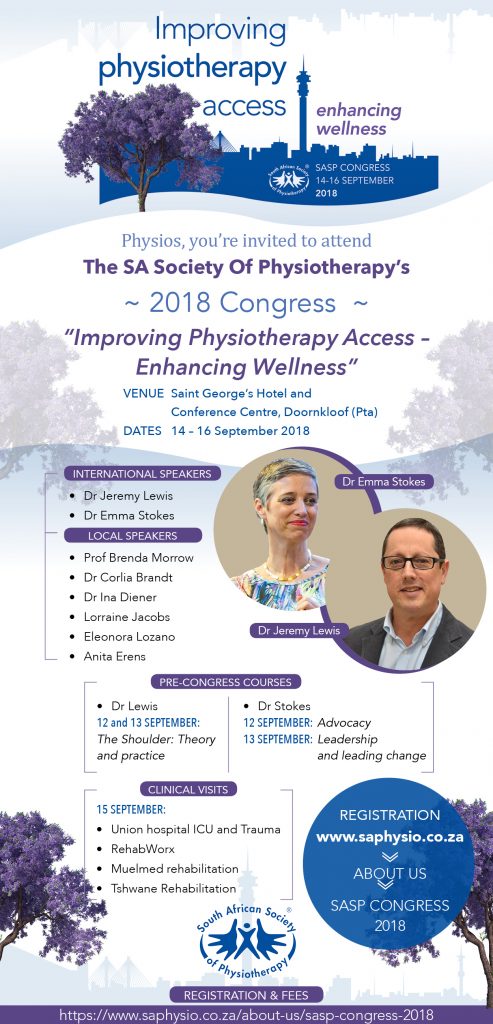 Topic:              The shoulder:  Theory and practice
Dates:             12 & 13 September 2018
Read the course flyer.
Dr Emma Stokes
Course 1 Topic:          Advocacy
Date:                           12 September 2018
Read the course flyer.
Course 2 Topic:          Leadership and leading change
Date:                           13 September 2018
Read the course flyer.
Only 30, 25 and 25 delegates can be accommodated respectively so book quickly!
Networking Opportunities
If you can't attend any of the pre-programme courses, then make sure you attend the welcome cocktail evening on Friday 14 September 2018 after the SASP AGM. The fees and your attendance are automatically included in the full congress fee or if you register for Friday for the day, so there is no excuse. This offers a great way to network and meet new colleagues.
If the cocktails aren't for you, then the breakfast on Sunday morning might be better suited. This will enable you to mingle on an informal note with colleagues and especially the two international speakers. Both of them will give a 10 minute inspirational talk to the delegates.
With such an amazing few days lined up make sure you sign up soon! If you are an SASP member then sign up here. If you aren't a SASP member then sign up here.