There are now over 50 stroke resources available in our e-library and resource centre exclusively available on PP+. This includes a variety of brilliant content including book chapters, interviews and articles.
These book chapters have been very kindly provided for your learning by our academic partner Elsevier.  The content team at Elsevier Health are delighted to be able to share these with you:
Robert Teasell MD, Hussein N. Clinical Consequences of Stroke, 2013
Jones, K., Section 2 Functional Neuroanatomy: A Clinician's Guide, Churchill Livingstone, 2014
O'Sullivan SB, Schmitz TJ, Fulk G.  Chapter 15 Stroke In: Physical Rehabilitation. FA Davis; 2013 Jul 23.
Gillen, G. Upper extremity function and management. Chapter 10 in: Gillen, G. Stroke Rehabilitation: A Functional Based Approach. Elsevier, 2011.
Foley, N., Mehta, S., Jutai, J., Staines E. & Teasell, R. Upper Extremity Interventions. Evidence-Based Review of Stroke Rehabilitation, 2014
Alongside the book chapters are many articles and guidelines from our colleagues who have amazingly openly shared online including:
J.M. Veerbeek et al.  Clinical Practice Guideline for Physical Therapy in Patients with Stroke.  Royal Dutch Society for Physical Therapy (KNGF), 2014.
Stroke rehabilitation: Long-term rehabilitation after stroke, NICE clinical guideline 162, 2013
Jauch, E. et al, Guidelines for the Early Management of Patients With Acute Ischemic Stroke: A Guideline for Healthcare Professionals From the American Heart Association/American Stroke Association, Stroke, 2013;44:870-947
Carolynn Patten, Elizabeth G Condliffe, Christine A Dairaghi and Peter S Lum. Journal of NeuroEngineering and Rehabilitation 2013, 10:1
There are also so insightful interviews with clinic experts for you to watch as and when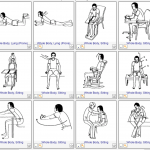 you need their expertise.
Dr Coralie English – Activity Levels in Stroke Rehabilitation.
Megan Giglia MBE –  A Paralympians Perspective on Physiotherapy Stroke Rehabilitation.
As well as all of these fantastic resources, as part of your PP+ membership you have access to PhysioTools Online and a special stroke module.