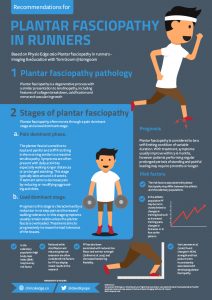 When it comes to learning about how best to manage running injuries, the first person you should go to is to Tom Goom. He recently appeared (in stereo) on the PhysioEdge podcast and talked about heel pain.
Plantar fasciopathy is one of the most common causes of heel pain and can be tricky to manage. Choosing the right plan for your patient is a challenge, keeping them on track for many months can be harder. Let PhysioEdge and Tom Goom make things crystal clear for you with this brilliant infographic. It contains the most important information for you and your patients with plantar fasciopathy.
As demonstrated by this episode of PhysioEdge, podcasts are a convenient and time effective way of engaging with your CPD. Of course it is only time effective if you know where to find them. By using the new podcast section on PP+ we do this for you, let us save you time and do the hunting for you.
We can't take all the credit we are working with our friends at
Clinical Edge
to make this tool even more powerful. Work with ClinicalEdge and Physiopedia to grow your confidence and clinical skills now.