"Rehabilitation 2030: a call for action" commits to strengthening and extending rehabilitation in countries worldwide.
In a recent news post  we highlighted the Rehabilitation 2030 call for action which was asking participants to commit towards: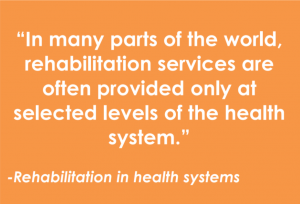 Building comprehensive service delivery models
Developing a strong multidisciplinary workforce
Expanding financing mechanisms and enhancing health information systems
Strong leadership and political support to underpin these efforts
The aim of the initiative is to increase the awareness of the need to provide a strengthened rehabilitation services which is equitable around the world. This is to meet the future healthcare demands as a result of the rise of NCD's and an ageing population.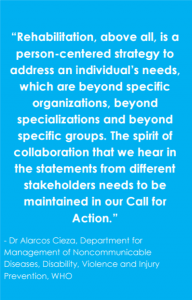 On February the 6th and 7th the initial meeting was held at the WHO headquarters. The report has now been published and can be found here. The report summarises the messages from the meeting highlighting the need for improvement around the world.
Physiotherapy are essential parts of rehabilitation services around the world. Without our profession rehabilitation would not be possible for many people. We need to a central driving force in the development and expansion of services.
How are you involved with rehabilitation? We'd love to feature news from rehabilitation initiatives from around the world. Lets us know in the comments and via social media.