Abstracts available from ER-WCPT 2016.
The 4th European Congress of the European Region of the World Congress of Physiotherapy took place on the 11-12th of November 2016. The Physiopedia team had a strong presence with some impressive platform presentations and a very busy stall in the main hall. Read our round-up.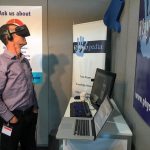 The stall was always busy with a virtual reality headset to try. We are very enthusiastic about technology at Physiopedia and we are confident VR will be beneficial to physical rehabilitation in the near future. After trying it out, it is impossible to say otherwise.
Sadly we can't offer you the virtual reality experience but what we can offer you the chance to re-live the presentations. All of the presentations and posters abstracts are available via Physiotherapy journal.
Michelle Lee impressed the room with a review of the effectiveness of using a wiki to support educational projects internationally at undergraduate and postgraduate levels. If you wanted to read a lice account of the presentation then spare a couple of minutes to read one of our news items.
Michael Rowe was busy with a presentation and a poster. During his presentation Michael demonstrated how open online courses  aimed at health professions are a great resource however efforts need to be made with critical appraisal regarding effectiveness and economic value. It is also important to think about access to the internet as well as the skills required to take part in an online course.
Digital literacy in the student population was the focus of his poster. Presuming that students are all digital natives could be a mistake and his poster explains why.
Rachel Lowe is an excellent teacher and it is always worth watching her presentations. She was an integral part of a discussion panel tasked with discussing the legalities, ethics and frameworks of digital technologies in healthcare and the importance of open access digital resources.
Prepare for even more original presentations and materials from us throughout the year!