Photography can be powerful. Instagram and social media can dilute the impact and inspiration photography can create. Take a moment and consider that the most evoking images can come from the most unexpected places. 
If you've never heard of Mae Sot before I wouldn't be surprised. It is a large town on the border between Thailand and Burma. Burma is a country in transition and recovery following decades of political instability. With an estimated 1.4 million displaced migrants and refugees living in the borderlands of Thailand, perhaps around 130,000 in the region of Mae Sot. Many of these refugees have life long conditions such as cerebral palsy or spina bifida, with no access to healthcare.
The We Are Here project aims to change the lives of those child refugees who have chronic conditions through photography. Run by two UK Physiotherapists, the pair aim to use the photos captured as a forum through which young people can gain knowledge about their diagnosis and seek social support in their often isolated communities. Hopefully this will promote self-management of life long conditions particularly in the transition from childhood to adulthood.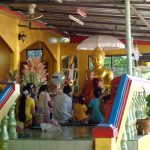 The physiotherapists both work in a voluntary capacity for a small UK Charity called All you Need is Love UK within the Stepping Stones Project. This project provides community based rehabilitation for children with neuro-disabilities who live in the villages and communities in and around Mae Sot.
Unfortunately due to the aforementioned civil and political unrest many of the children in Mae Sot are socially isolated and have a poor understanding of their disability. Most of their management has been through Traditional Thai medicine or fabled 'cures' for incurable disorders and subsequently many feel alone with their disability. This is worsened by the fact most have not been to school or have only completed a couple of years of their education or an inability to access mainstream education. Furthermore, there is the additional challenge of prejudice of disability in Thailand. In worst cases disabled individuals can sometimes be feared or avoided in their local community.
In order to help address these goals Stepping Stones decided to run a participatory photography project with 7 of the young people known to their service.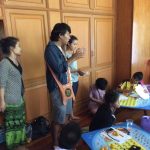 In the first part of the project the therapists taught the young people about their diagnosis e.g. cerebral palsy, spina bifida , giving them the chance to meet other disabled children their age. In the second part of the project they facilitated the children to use photography as a way of helping to communicate their experience of disability. Participatory photography has become an increasingly popular method to help capture the views and experiences of young people and those with health conditions and they will be using it in this instance as a way of self-expression which at times can be difficult for young people who perhaps have reduced confidence around self-advocacy skills and whose voices are often never heard.
The young people have produced some really wonderful and powerful images. They have been lucky enough to secure an exhibition space at Passport restaurant in Mae Sot where their work will be displayed alongside supporting narratives written by the young people which explains their photos in more detail and the meaning behind them.
If any members of Working in Children's Community CP are in or around the area of North West Thailand on December 15th you must go and take a look at the gallery!