Let's continue to help build the world's largest database of physiotherapy practice!
The big physio survey had an ever growing presence at ER-WCPT and there is still plenty of time for you to get involved and contribute to physiotherapy practice on a global level. The survey's aim is to collect as many case studies of physiotherapy practice as possible. Below is a copy of the poster (abstract here), which was as ER-WCPT, to bring you up to date with the project so far. Following the poster is a video of Anne Green to talk you through the findings.
If you are unfamiliar with the concept a case study is a research approach which generates in-depth, multifaceted information around a particular example within its natural context. It gives you the opportunity to refine and develop your learning and clinical practice with the help of others, with real life context and examples.
The cases you provide to the survey do not have to be extreme examples – sometimes the best learning opportunities occur when your strongly held beliefs are challenged.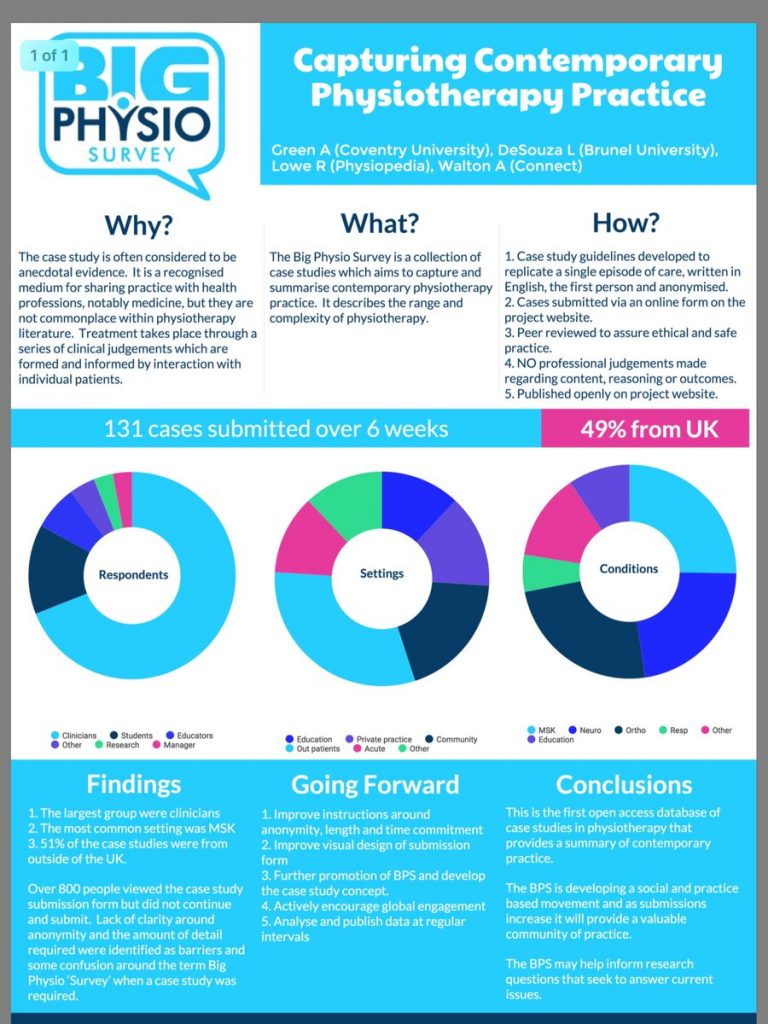 Here is Anne Green with her thoughts about the survey, the poster and why you should get involved.
The applications of the survey are wide reaching from individual clinicians, policy makers and academics. It is open access and readily accessible. The cases are there, now, ready to be used.
The idea of individuals using the survey from around the world can be expanded. If you collect the data all up into one big collection then you can see trends of practice existing around the world which could then help drive progress and development. All of this is the concept of big data, many industries are already using this concept successfully. If you haven't come across big data it is using extremely large data sets that may be analysed computationally to reveal patterns, trends, and associations, especially relating to human behaviour and interactions.
If you are concerned about the ethical implications with submitting a case then rest assured. All cases are anonymised, written in the first person, peer reviewed to assure ethical practice with no professional judgments being made. So there is no reason not to participate!
Enter your case study here.