Tarina Van Der Stockt is a Physiopedia volunteer, this is her reflection on her time at the Rio Paralympic games. Many thanks to Tarina for sharing her experiences with us!
It's been a month since the closing ceremony of the Rio 2016 Paralympic Games. As I reflect back on all the memories, I wish I could cherish each moment and every discussion forever. I think it is impossible to walk away from such an experience and not be changed, in some way.
London 2012 was my first Paralympic Games. I worked as one of the physiotherapists for Team South Africa, and I remember being amazed from a therapeutic point of view, at all the different disabilities people had. My brain went into overdrive trying to figure out the biomechanical impact of each disability, the possible injuries, and ways to prevent it.
Rio 2016 was a different experience for me as I saw another side of athletes with disabilities. I got to see their abilities, their dreams, their hard work, their disappointments, and their tenacity. I heard many life stories and experienced their uttermost determination first hand. For a short while, I had the opportunity to be part of other people's dreams.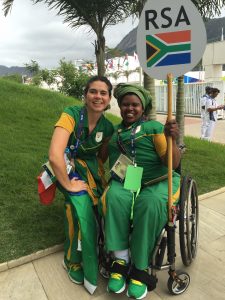 As part of Team South Africa, I worked with para-rowing and canoeing and assisted with other sports. In the past, I have been involved with the para-rowing team and was privileged to be their physiotherapist for the month leading up to the Paralympic Games. For me, as a physiotherapist, it was an enriching experience to be part of the para-rowing team. They gave everything they had on the water and I had to give my all with recovery, treatment, and prevention. I also enjoyed working in the medical rooms, interacting and treating athletes across different sporting codes.
The organization and presentation of the Paralympic Games exceeded our expectations. The volunteers were friendly and helpful, and the people of Rio made us feel welcome. They cheered loudly in the stadiums and encouraged every participant.
I'm grateful for this experience, as I was able to live out my passion and be part of a bigger dream!
| | |
| --- | --- |
| Team SA Para-Canoeing Team: Graham Paul, Fouché van Tonder (coach), Tarina van der Stockt (physio) | Team SA Para-Rowing Team. Front: Shannon Murray, Lucy Perold, Sandra Khumalo, Willie Morgan, Tarina van der Stockt (physio) Back: Dylan Trollope, Marco Galeone (coach), Dieter Rosslee |