The recent World Physiotherapy Congress offered an important opportunity for physiotherapists from around the world to share their work and common passion for rehabilitation innovation. As part of our multiple activities at congress this year, the Physiopedia team shared how we are using best practice and supporting clinicians to create quality evidence based online learning content on Physiopedia Plus (Plus).
The Plus online learning platform provides education and professional development for rehabilitation professionals, with a focus on being both accessible to all learners as well as being inclusive and supportive to subject matter experts (SMEs) with a desire to share their knowledge, wherever they are in the world. Online courses are a core offering on Plus, and comprise both written and video content. Instructional videos are reported to be an excellent mode for asynchronous online learning, by allowing students and professionals to learn when and where they want and at their own speed. In two poster presentations at this year's Congress, the team shared their experience of supporting SMEs to develop high-quality online video content that is both engaging and effective for learners.
The team first presented research on how they established best practices for creating instructional online video content. A scoping review was conducted and the top ten themes for the creation of professional videos to facilitate learning for physiotherapy education were identified. The review of 40 peer-reviewed articles revealed that pedagogy and instructional design were the main features of videos that support learning and engagement. In practice, this means using a combination of teaching methods, learning activities and learning assessments with clear learning objectives. In line with this identified best practice, Plus online courses comprise a variety of media including written and video content, all with clear learning objectives and assessments, to enhance the learning experience and easily help share rehabilitation expertise widely.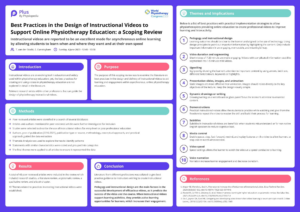 This work led to consideration of how SMEs interested in using online learning to share their expertise can be supported in doing so. It is recognised that a lack of technological know-how and multimedia skills can be a barrier for  creating effective instructional videos. It is also evident that the quality of the videos themselves have an impact on knowledge translation. To combat these barriers and create an effective learning environment the team developed best practices and a practical checklist for instructors creating instructional videos for courses. A one-on-one remote Plus Instructor mentorship programme was then implemented which included virtual meetings, a detailed Instructor Handbook, test video feedback and a video production checklist . Over a 1-year period a total of 45 SMEs from 10 countries participated in the new mentoring process which supported  them to develop knowledge and skills for creating instructional videos that enhanced knowledge translation. Through this process, there was a dramatic increase in the quality of the videos created by course instructors, which was reflected in the feedback from Plus members and Instructors. 
"I am so grateful for the Plus course creation team and the media team. The Plus group has been supportive and patient with me as I am learning how to create professional online courses that are meaningful to learners. Thank you plus team!" – Larisa Hoffman, PhD, PT, Regis University United States of America.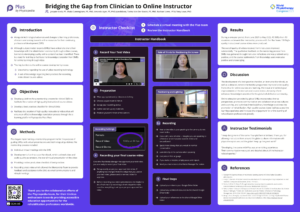 Quality videos are important for knowledge translation because they enhance visual engagement, ease the demonstration of concepts, promote multimodal learning, potentially increase retention and recall of the material and also create a dynamic and immersive learning experience. Developing best instructional practices and using a remote mentorship programme to support SMEs in becoming effective online instructors has created a more immersive and optimal learning environment on Plus. Plus video content is presented in the most effective format for learning using evidence-based best practices.  Methods to develop video content allows rehabilitation professionals the opportunity to effectively share their knowledge with others despite their location, which promotes the incorporation of diverse perspectives and promotes communication and collaboration across cultures and countries. All facilitating a positive learning experience for rehabilitation professionals globally.