ReLAB-HS hosted a meeting in Uganda this month with professional associations, academic institutions and other stakeholders to discuss academic and regulatory activities and how to deliver sustainable continuing professional development (CPD).
In Uganda approximately 6.8 million people experience conditions that could benefit from rehabilitation yet there is a fragmented health system where rehabilitation lacks data, has weak policies, inadequate government investment, lack of prioritisation and limited workforce capacity to service the rehabilitation needs. 
ReLAB-HS is responding to identified workforce development needs to strengthen the rehabilitation workforce, which is key to functioning health systems. An international rehabilitation education and training toolkit (IRETT) is being developed to support regulation, education and training initiatives. The tools will be globally relevant so that they can be adopted by anyone but will be accompanied by guidance to facilitate adaptation to any specific local context and identification of opportunities for sustainability and scale.
In Uganda the IRETT has been introduced to professional associations and training institutions and work has begun to strengthen professional regulation, academic programmes and professional development opportunities. This collaborative action, which utilises international mentors, has two main themes. Firstly, working with professional associations to strengthen their functioning, in particular to provide support to deliver continuing professional development (CPD) for rehabilitation professionals nationally, as mandated by the Allied Health Professions Council (AHPC). Secondly, to support training institutions to deliver academic rehabilitation programmes of international standards.
"This is the first time that the professional associations have worked together on such a significant project"
On 6–7 June 2023, Physiopedia team members Rachael and Tony Lowe, Herbert Omoding and Larisa Hoffman (supported virtually by Yara Peterko and Angela Patterson) attended an in-person meeting in Kampala representing ReLAB-HS. The professional associations from Physiotherapy, Occupational Therapy, Speech And Language Therapy and Prosthetics and Orthotics, plus three academic training institutions met to advance their collaborative work. The professional associations worked with the IRETT Regulation Reflection Tool to support action towards developing education plans for each profession. Whereas programme directors that represent each rehabilitation profession at the universities that deliver rehabilitation training worked with the IRETT Academic Program Reflection Tool to systematically review and update academic programmes in relation to their own institution's specific needs.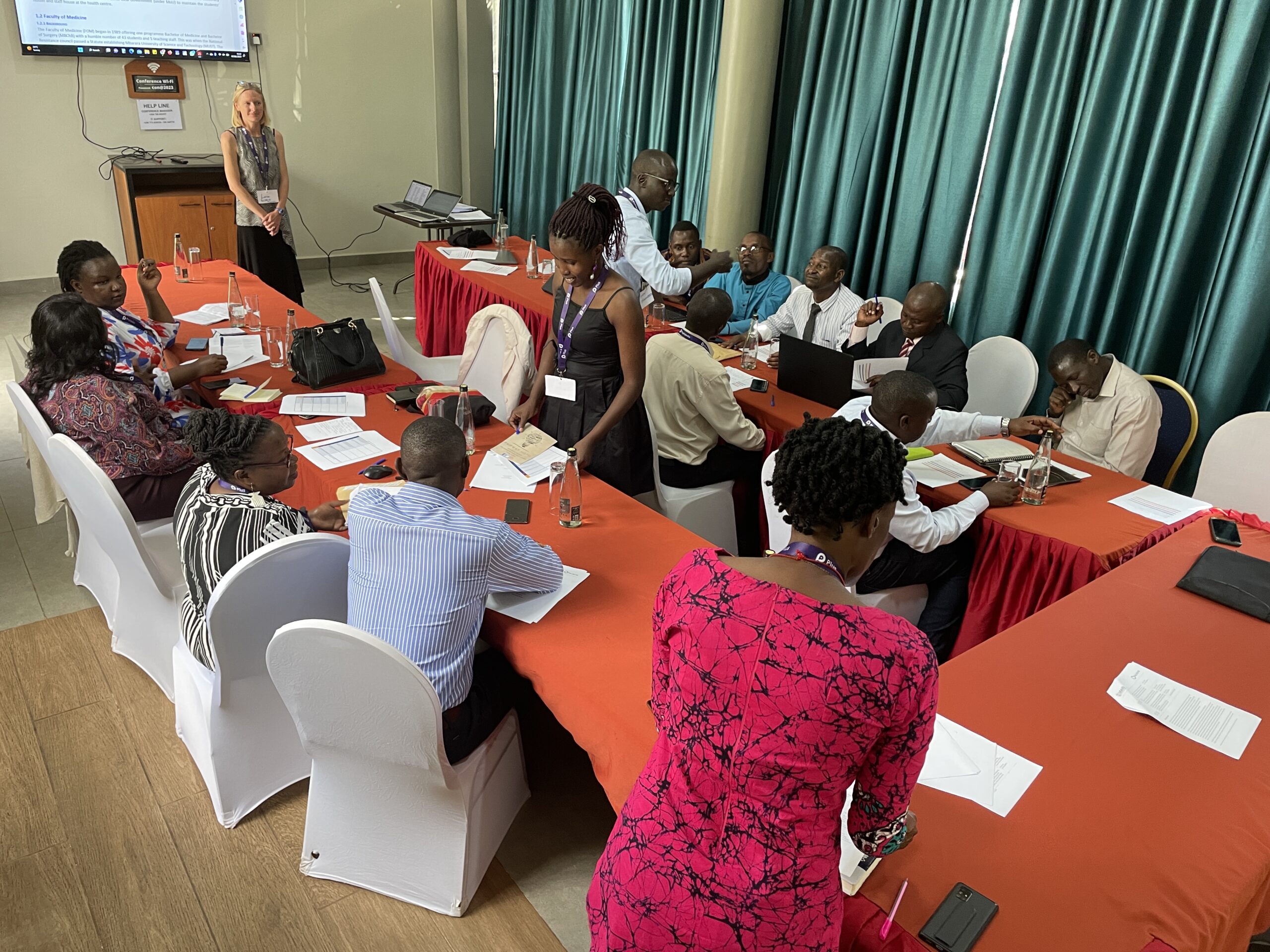 The professional associations noted that this was the first time they had worked together, interprofessionally, on a significant project. They discussed formalising this by creating a national rehabilitation alliance of the associations to work together towards regulation activities. The training institutions were very engaged, especially towards raising academic programmes from Diploma to Bachelors, or Bachelors to Masters, they naturally worked together sharing resources and curriculum in a very helpful open way.
In addition to activities towards strengthening formal entry-level education in Uganda, the group also agreed to collaborate to deliver a programme of CPD for their members. Taking into consideration time and cost efficiency, for the initial delivery of the postgraduate CPD training opportunities the group agreed an interprofessional format would be best and based on a previously performed training needs assessment initiated planning for a hybrid programme of training that covers Stroke and Assistive Technology.