A recent platform presentation by ReLAB-HS at the World Physiotherapy Congress 2023 outlined how a massive open online course (MOOC) was used to provide a comprehensive programme to equip rehabilitation professionals with far-reaching knowledge of rehabilitation for displaced persons.
The need for rehabilitation services to meet the needs of displaced persons at each stage of the migration process is an urgent and growing global issue. The MOOC on Understanding Rehabilitation Needs of Displaced Persons was a collaboration between Physiopedia and ReLAB-HS with the aim of enabling participants to play a proactive role in global and local interdisciplinary efforts to increase access to high-quality rehabilitation for displaced persons through all stages of the migration process. Designed to allow participants to select topics that most closely related to their current practice needs, the MOOC consisted of 7 courses and 2 live webinars that were free to all participants who completed the course within the 8-week timeframe from September 2022. The courses remain free to all Physiopedia Plus members as well as anyone living in a low-income country.
By hearing and learning about the stories of those people that we serve, we can gain a better understanding of what individuals may be going through, as well as understand why people may choose the activities and make the decisions that they do. This understanding allows us to be more empathetic and better able to provide culturally humble and competent, holistic, and compassionate care to our clients – MOOC participant
The presentation outlines how the MOOC was successful in providing participants with knowledge and insight into the unique healthcare needs and the challenges faced when providing care to this population. This may assist rehabilitation professionals in developing patient-centered care plans to maximise the social and physical well-being of their patients.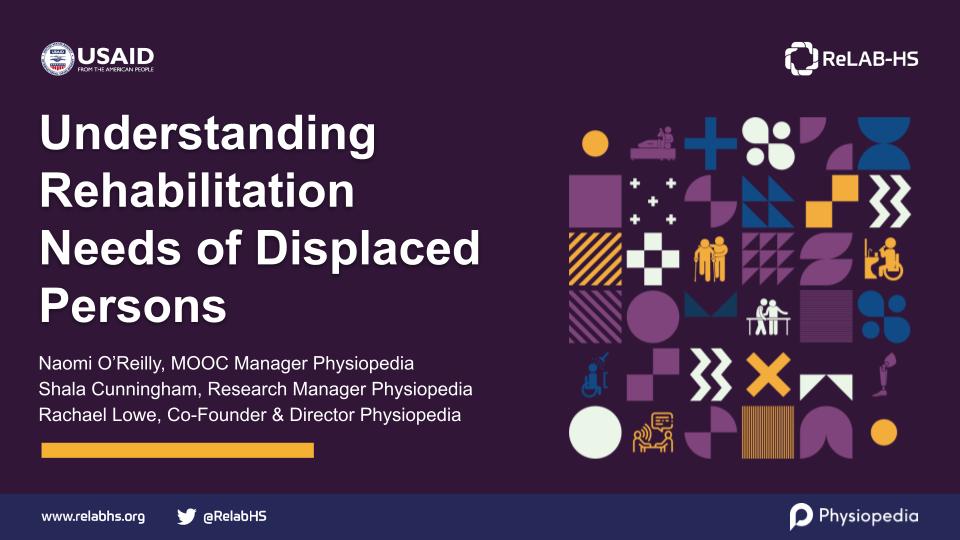 This platform presentation was first presented at World Physiotherapy Congress 2023 (PLS-43 on Saturday 3 June) by Shala Cunningham on behalf of the authors, Naomi O'Reilly (MOOC Manager Physiopedia), Shala Cunningham (Research Manager Physiopedia) and Rachael Lowe (Co-Founder & Director Physiopedia). 
ReLAB-HS is made possible by the generous support of the American people through the United States Agency for International Development (USAID) and is implemented under cooperative agreement number 7200AA20CA00033. The consortium is managed by prime recipient, Johns Hopkins Bloomberg School of Public Health.