Kate-Lynn is one of the worker bees behind the scenes at Physioplus.  She is responsible for editing Physioplus videos for courses, you may have seen some of her work!  Kate-Lynn is not only a Physiotherapist but also a Professional Photographer.  Through Physioplus, she is able to combine her two passions and help share rehabilitation knowledge in a professional and accessible way.  Kate-Lynn is a diligent editor, an excellent teammate and a dynamic thinker.  Her natural curiosity makes her an asset to the Physioplus team as she never shy's away from a challenge.  Kate-Lynn, thank you for your energy, your persistence and for infusing your positivity into your work.  Congrats on being on Top Contributor for March!
Your name: Kate-Lynn (Katie) Downey
Time acti
ve with Physiopedia: In April, I will be celebrating my one year anniversary with Physiopedia/Physioplus.
Current role with Physiopedia: I am one of the Media Editors, so I work on the Physioplus course videos and edit them along with the rest of the Media Team.
Where did you go to university/college? I obtained my B.Sc. Physiotherapy degree in 2009 from the University of the Free State in South Africa.
Where do you work? I live in South Africa in the beautiful coastal town of Port Alfred. I left clinical practice at the end of 2017 while I was pregnant with my second son. Since then, I've been pursuing my career in professional photography (I obtained a Diploma in Photography in 2013 and started a photography business at the beginning of 2017) and I have a photography studio at my home. I also homeschool my sons, currently aged 6 and 3.
Describe your role: My role at Physioplus is to edit the videos that are submitted by the course instructors. I watch them through, edit them to add in the pertinent information and add images to aid the learning experience of the viewer, and then transcribe them. From there, one of my Media Team colleagues reviews the videos to check for any errors (and I review theirs in turn), and then once those errors are resolved, the video gets passed on to the Course Development Team who then work on the next part of developing the course.
What is the most rewarding part of being a physiotherapist? For me, the most rewarding part of physiotherapy was always rehab-related. I loved neurorehabilitation and working with individuals affected by stroke. I always wished I could have worked at a rehabilitation hospital working with spinal cord injury patients as well, but being in a small town, those opportunities didn't exist. Seeing stroke patients on a regular basis and seeing the progress that they made, and celebrating the milestones that they achieved with them, was the most rewarding thing for me.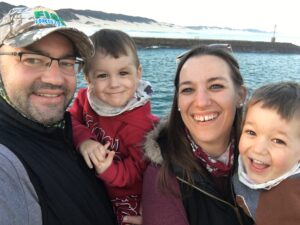 What are some of the more challenging aspects of being a physiotherapist? Personally, I found the physical demands of the job the most challenging. I was diagnosed with fibromyalgia in 2019, after a 7-year journey of seeking assistance and answers. Unfortunately, my physical limitations made practising as a physiotherapist very challenging and played a big role in my leaving clinical practice.

What are some of your professional passions?
Neurorehabilitation
Spinal cord injuries
Geriatrics
Orthopaedics
Pain management
What are a few of your personal passions? Education – I'm an academic person by nature and I love learning new things all the time. I also love sharing what I've learnt with others and that's where the beauty of homeschooling my kids really comes into play.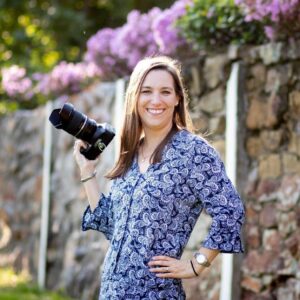 Photography – my business slogan is "Memories fade, photos are forever" and I can never emphasise enough how short life can be and that we need to capture as many of those memories as possible for our own future enjoyment and for the generations to come to enjoy too. Watching my kids grow and change so fast blows my mind and I'm so grateful to live in a technological era where we are privileged to be able to capture those special memories on camera.
Wildlife/nature – my family loves going to visit the beautiful wildlife/game parks that South Africa has to offer.
Camping – just getting away from the daily grind and enjoying simple living without distractions, while spending quality time with the people I love most.
Spending time with my precious family.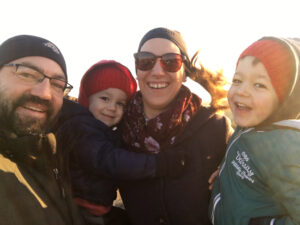 Reading, reading, reading! There are always too many books and too little time!
What would be your advice to a newly graduating physiotherapist? Spend time working in all areas of physiotherapy, so that you are a well-rounded professional. Never be afraid to ask lots of questions and learn new things. Listen to the wisdom of more seasoned physiotherapists. Listen to your patients – they might not have a degree, but they are experts of their own bodies. Never stop learning.
Where do you see yourself in 5 years? In 5 years' time, I suspect I will still be doing much of the same things – Physiopedia/Physioplus, photography, and homeschooling. My long-term dream is to one day go back to clinical practice, but for now, my priorities are my children and raising them to be the best human beings that they can be.
What are the best things about being a Physiopedia volunteer?  Working for Physioplus has been such a blessing for me. I missed physiotherapy so much and I missed the mental/academic stimulation that my photography career lacks. Editing videos for Physioplus is a dream job for me – I get to learn as I work, I get to combine my passion for photography along with my passion for physiotherapy, and best of all, I get to do it all from home while still having the time to spend with my kids and homeschool them. I never could have imagined that such an amazing opportunity existed and I'm very grateful to be part of such an amazing team!
How has being a Physiopedia volunteer helped your professional development/career progression? Working for Physioplus has broadened my academic horizons. I'm constantly learning new things and refreshing my memory on old things as I work and I love just being a part of the physiotherapy world again. I love the feeling of knowing that if/when I ever go back to clinical practice, I won't be so outdated in my knowledge, which is a rather intimidating feeling when one has been out of it for over 4 years already!
What are your hopes and aspirations for Physiopedia?  I love how something as bad as the covid pandemic has springboarded platforms like Physiopedia and Physioplus. There are golden opportunities in this technological age we live in and it's exciting to see how Physiopedia and Physioplus are grabbing them by both hands and just going full steam ahead with making more and more knowledge available to an ever-widening audience.
 What is your favourite Physioplus course? Oh goodness – there have been so many favourites so far! I love all Jason Giesbrecht's work on emotional intelligence and how it can be applied to non-physiotherapy life situations and relationships as well. I love Claire Robertson's knee courses. Ibukun Afolabi's women's health courses were also incredibly fascinating. Helene Simpson's ankle programme is also one of my faves. I think it's safe to say that there are too many to mention them all!
Anything else you would like to share? Just that I'm blown away by how one person's (Rachael) vision/dream can grow from an idea to an incredibly successful organisation that is impacting physiotherapists and other rehabilitation specialists around the world. That one tiny seed of an idea has truly grown into a very fruitful, strong tree and we all get to enjoy the benefits of the sweet fruit it is bearing.