Amanda is a dynamic team member who has been with Physiopedia for a few years now.  She has a passion for upper extremity rehabilitation and a keen eye for organisation.  She loves spreadsheets and creating order.  As such, she helps manage the admin for Physiopedia and enjoys working on different projects and with different teams.  Amanda has been involved in Gender Equality and Social Inclusion (GESI) projects through ReLAB-HS and helps to answer your questions about Physioplus.  Amanda is our Top Contributor this month because of her willingness to always help others and for being a constant source of dependability behind the scenes.  Thanks for all you do, Amanda!
Time active with Physiopedia: Since July 2018, so just over three years.
Current role with Physiopedia: I help manage the administrative tasks for Physiopedia and Physioplus.  I also answer emails and questions related to Physioplus and help out with Gender Equality and Social Inclusion (GESI) content.
Where did you go to university/college? I have a Bachelor's degree from McMaster University, a clinical Master's from Université d'Ottawa, a research Master's from Université Laval (all from Canada) and I am currently finishing my PhD at Ghent University in Belgium.
 Where do you work?  I work remotely for Physiopedia and I am a PhD student at the moment.  
Describe your role:  I support the team in all things administration.  I also help with the Physiopedia upper extremity pages, manage the Physiopedia Awards Programme and answer questions about using Physioplus.
What is the most rewarding part of being a physiotherapist? Knowing that you are capable of making a difference to a person's day to day life.  Seeing the trust that people give you in helping them heal and accomplish their health goals. I once had a colleague refer to physiotherapists as the "mechanics of the human body".  I very much identify with this because I take a strong biomechanical approach when treating people (for example, their bodily alignment, the stress and strain of tissues, thinking about the implications of the nervous system – our electrical system).  I am proud to be a "bio-mechanic", it is absolutely a rewarding profession.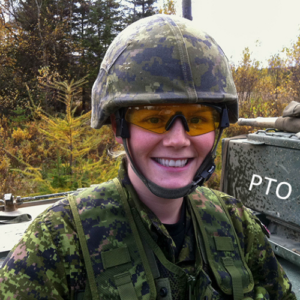 What are some of the more challenging aspects about being a physiotherapist?  I started out my physiotherapy journey as a military physiotherapist in Canada.  It was an excellent way to develop my clinical reasoning and learn how to do more with less.  I have accompanied soldiers to field exercises with very little equipment and was expected to help them return to their work as quickly and safely as possible.  Within this environment, I was also part of the triage team and assisted with determining if a soldier's discomfort or pain was of a neuromuscular nature.  It was thrilling to be part of a multidisciplinary team for a high-functioning, and at times challenging, population.
The most challenging part of being a physiotherapist involved overcoming self-doubt and accepting that I did in fact have the confidence and competence to be an effective clinician.  It can be a challenge to acknowledge that you know enough to be safe and effective with your patients.
What are some of your professional passions? Being a former rugby player and in the military for 10 years, I certainly suffered my fair share of injuries, particularly involving my shoulders.  Because of my own injuries, I became personally invested in making sure that our military population with shoulder pain received a high level of quality care and were able to return to their demanding jobs.  Like any clinician treating shoulder dysfunctions, you quickly realise the importance of neuromuscular control and proprioception for shoulder health.  It was from this clinical experience that I decided to return to study shoulder proprioception. My PhD thesis involves developing and testing a clinical tool for measuring the sense of shoulder proprioception.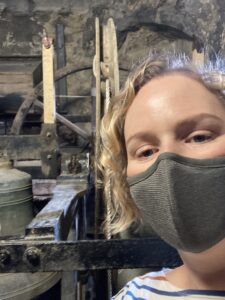 What are a few of your personal passions?  Travelling, my husband and my puppy, Rupert, certainly top my list. I am also a deeply curious person and I enjoy learning new things.  Since moving to the United Kingdom, I have started to learn Bell Ringing (in church/cathedral towers) started metal detecting and joined the Women's Institute in my local village (ask me about my chutney skills!).  I have met so many interesting people and gained rewarding experiences.  Connecting with different types of people, I believe, will help me remain a compassionate and empathetic clinician.
 What would be your advice to a newly graduating physiotherapist? Be confident with what you do know and recognise what you don't know.  Be curious and passionate about continuing to learn.  It is perfectly acceptable to ask for help or to have a second opinion with your more complicated clinical cases.  I have seen too often "overly confident" developing clinicians who have made decisions that impacted a person's quality of life in the long term.  We may not be making "life-or-death" decisions (although, this can happen), but the clinical decisions we do make have a direct impact on the health of another person.  There is no room for pride when treating people.  Ask questions, ask for clarification and don't be afraid to say to your patient "that is a great question, let me look into that for you".  Your honesty and sincerity will help you build a stronger patient-clinician relationship.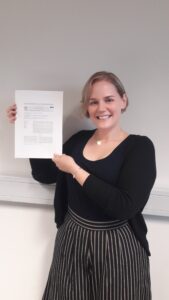 Where do you see yourself in 5 years? Great question. I absolutely hope to be finished my doctorate by then.  My husband is in the military and we move every 3 years or so.  It is difficult to say where we will be geographically located. That being said, I hope to continue working remotely, perhaps within a telehealth capacity or online teaching.  I enjoy clinical work but I also greatly enjoy research and presenting evidence-based research so that it is practically accessible.  I also greatly enjoy being involved within the physiotherapy community.  It is important to me that PTs around the world support each other and collectively drive progress within our profession.  It would be a dream to be involved with World Physiotherapy in some capacity. 
What are the best things about being a Physiopedia volunteer? The unpredictable challenges and opportunities.  Every day offers a new chance to challenge yourself and learn a new skill.  I have learned how to write basic coding for Physiopedia pages, how to attend online meetings with colleagues from around the world, and being at the forefront of change for our profession.  The sense of connectivity and teamwork within the Physiopedia Team is awe-inspiring.  This has been the ideal way for me to stay connected and up-to-date with physiotherapy while moving from country to country.  This has been such a rewarding experience.
How has being a Physiopedia volunteer helped your professional development/career progression? Working with Physiopedia has actually had a positive impact on my research.  Reading through the Physioplus forum and attending the webinars has given me a unique insight into what physiotherapy practice is like around the world.  It has helped me keep a clinical focus on my research questions.   It has also helped me connect with other developing researchers and establish a peer support group.
What are your hopes and aspirations for Physiopedia? To continue to grow and to lead change in rehabilitation medicine.  The Physiopedia Team is very forward-leaning, constantly attempting new challenges and setting the example for online learning.  I am constantly impressed with how much Physiopedia gives back to the community (for example, offering free access to Physioplus for residents in low-income countries, as well as several discounts) and elevating the standards of practice internationally.  I hope Physiopedia will continue to influence clinical practice and connect rehabilitation professionals from around the world.  
What is your favourite Physioplus course? This is a difficult question to answer fairly, as there are so many quality courses and instructors on Physioplus. I truly enjoyed the Ethics Programme with Andrea Strum and the newly developed course on The Global Need for Rehabilitation with Sumit Kane. The physiotherapy ethical scope of practice and understanding the global need for rehabilitation is so important, particularly in light of the current pandemic.  It is essential that we, as members of the physiotherapist profession, understand the larger picture in rehabilitation while also acquiring clinical knowledge.
Anything else to add? A sincere thank you to the Physiopedia Team for being open, helpful and kind.  It is wonderful to work with like-minded people towards the common goal of "improving global health through universal access to physiotherapy knowledge".