Through 2021's new Top Tips Tuesday we often share thoughtful insights into the way we think about Physioplus.  Education isn't something that you finish and it should not be intended to make you comfortable, it is meant to make you think.  We believe that education is a lifelong challenge to better oneself and to optimise the influence that you have on others, whether that be in your work place, your social circumstances, or your lived environments. It is something that you get from multiple places in a variety of formats from a selection of trusted sources that suit your individual needs at any particular time.
Online education has become much more widely accepted among the global physiotherapy community through the COVID-19 pandemic. In a profession that has previously been slow to adopt technology, we are now experiencing a thirst for digital innovation. This step change has seen a shift in our profession in ways we could never have imagined just two years ago and is making physiotherapy services, education provision and professional governance more accessible globally. None of this is lost on us and we are very grateful to the 128,000 people that trust Physioplus as a source of their education.
Always progressing
At Physioplus we are always striving to learn, to better ourselves and to make a difference to the individuals that trust us to support their own education and the organisations that trust us to supplement the education that they provide. In 2021 we listened to your requests and built upon our foundations to bring you 135 new courses, live webinars, new features including trending courses, suggested courses and to do lists and an upgraded partner administration dashboard for organisations.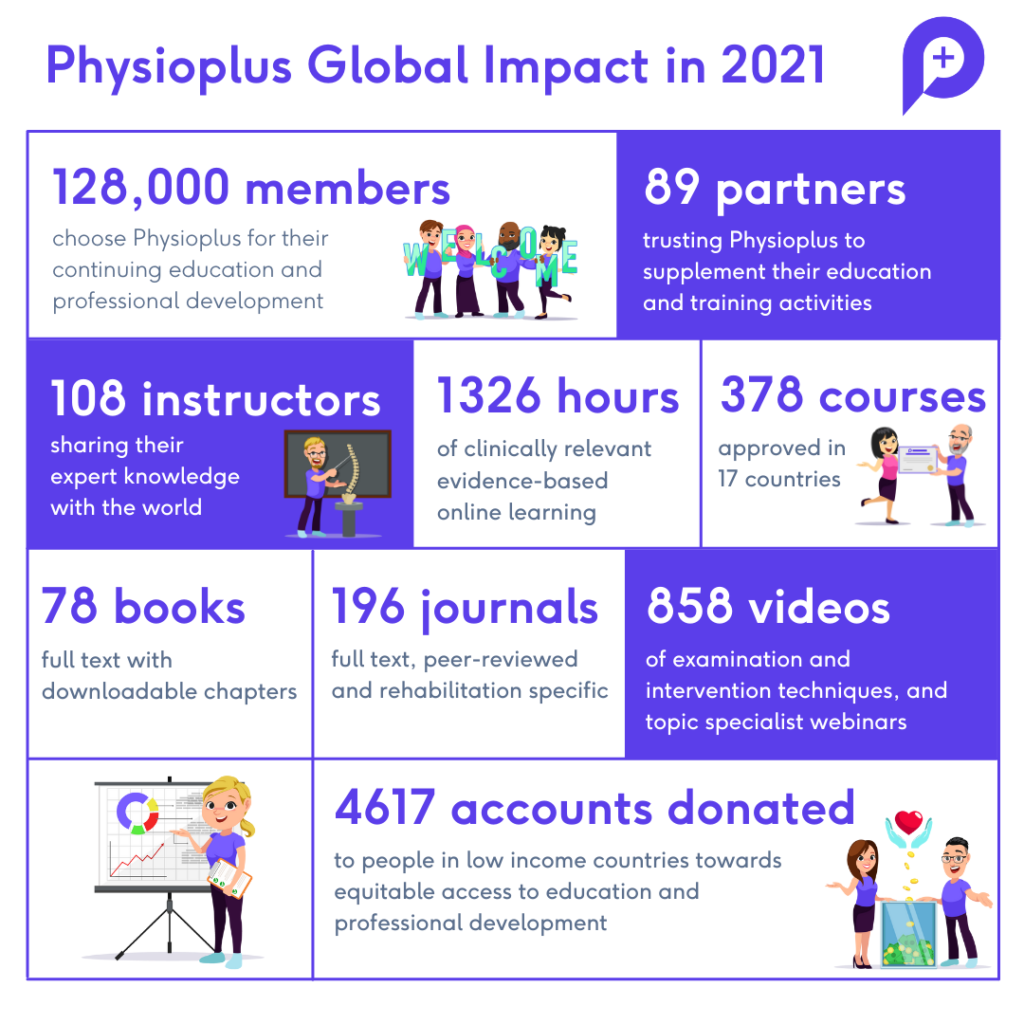 Ever reaching
We spent a lot of time over the last year exploring avenues to reach for the moon. An expanded team has been investigating education and training provision globally to highlight needs, opportunities and challenges. Outcomes from this work will inform curriculum development and support options to facilitate the adoption of Physioplus as a training tool. Specific work will be done to assist people to make adaptions for their specific context, in particular by organisations who are supplementing their education and training provision with Physioplus.
Another team has been focused on making Physioplus more accessible to all.  This work includes adding accessible options to videos, alternative language options with physiotherapy specific translations, and offline options so that people with no or low bandwidth are not excluded. Our vision is a world where knowledge is selflessly shared and any physiotherapist can easily, affordably and equitably access high quality education. If we really can achieve these ambitious goals then we really are getting closer to the moon!
To the future and beyond!
2021 has required endless amounts of strength, trust and resilience  and the team working on Physioplus has never shied away from this.  They have taken on the challenges that we have set for them with intelligence, enthusiasm and grace. Focusing on the long game is a constant challenge in a world where everyone is continually vying for our attention but there is no elevator to success, you have to take the stairs.
To the team that work so hard and to the members and organisations that trust us to do what we do, we are all together climbing the stairs. And together, in the interests of global health and wellbeing, we will all achieve even greater success.