In 2021 we all had to learn to live with COVID-19, everything had to adapt.  Families and friendships have been challenged to find new ways to connect and working environments have had to create strong confident systems, while health care systems have been challenged to the core and our profession has united to provide responsive physiotherapy services.   This has required endless amounts of strength, trust and resilience.
On top of all of this the world is evolving at an exponential pace.  Civilians have travelled to space, crypto has become the new language of money, and influencers have invaded our lives.   Political roller coasters makes us queasy, conflicts old and new cause deep wounds, and the environment is being challenged by nature's increasingly catastrophic events. In 2021 we aimed for Resilience.
Being resilient
Resilience is not just the ability to bounce back, but also the capacity to adapt in the face of challenging circumstances, whilst maintaining a stable mental wellbeing. Not only has this reliability been important to the Physiopedia team but also for providing a trusted knowledge resource for our users. Physiopedia has become the wallpaper! Sometimes it doesn't hurt to be boring (yes we think the wallpaper analogy is a little boring!), it's more important to be there for people, through the good, the bad and the ugly.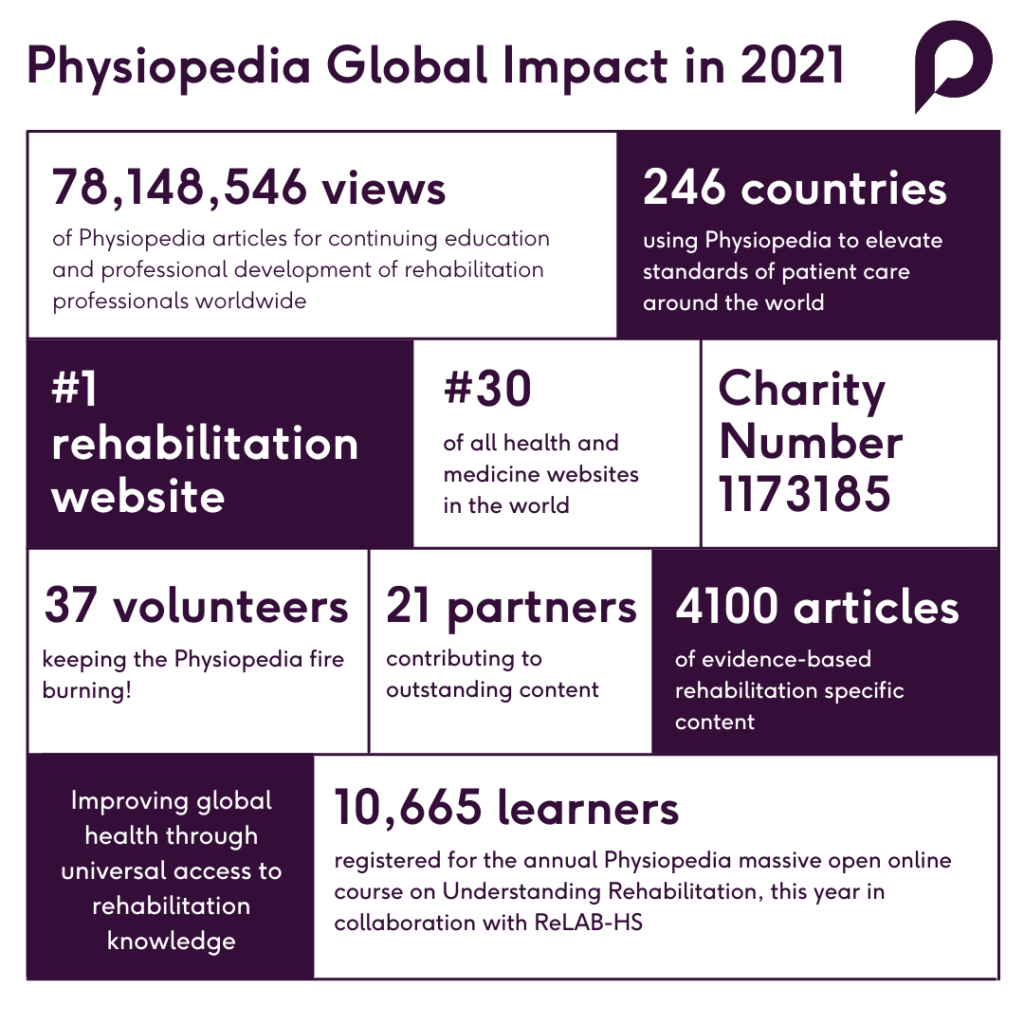 Still not believing
We continue to be humbled by the role that Physiopedia plays in elevating knowledge for not only physiotherapists, but also a wide range of other health care professionals plus the general health information seeking public. 31 million people from every country in the world viewed over 78 million articles on Physiopedia in 2021 (up from 12 million people viewing over 30 million articles in 2019).  Physiopedia continues to be the #1 physiotherapy website and is ranked #30 (up from 48 last year) in the SimilarWeb Health and Medicine category, out of all websites in the world!
Elevating knowledge
At the end of last year there were 4307 evidence based articles on Physiopedia, 623 of these being added in 2021. Our exceptional and altruistic team of volunteers (approximately 50 strong at the year end) do an incredible job of creating new content and updating existing content every day. Not only does this maintain a great educational resource for physiotherapists and an amazing advocacy tool for our profession, it is also being used in the education of other health care professionals and even school aged children.
I was surprised and delighted to see my son's school recommended the disaster management article on Physiopedia as a resource for my son's school project ~ Vidya Acharya, Physiopedia volunteer
Supporting patient education
We hear more and more that Physiopedia is being used to support patient education in clinics and hospitals worldwide.  Clinicians are directly sharing articles with patients to educate them about their condition, clinics are asking staff to download the app to share articles with patients via their mobile devices and injured individuals in remote places where no there is no access to physiotherapists are using Physiopedia for their own rehabilitation. With this in mind our future activities will include the development of patient facing resources, watch this space!
Physiopedia's long covid page has plenty of resources to help long covid sufferers get in touch with support groups to help them with their hard times ~ anonymous Physiopedia user
Valuing inclusive relationships
Physiopedia values itself on being a responsive and inclusive organisation. We aim to continually respond to evolving events, opportunities and innovations to benefit our profession, keeping the global profession informed and, where they wish, involved in all that we do. As such collaborations and partnerships are a strong part of the Physiopedia ethos and 2021 was no exception.  Content development projects took place on a variety of topics in collaboration with ReLAB-HS, Humanity & Inclusion, University of Waterloo, University of Nottingham, Queen's University and the Environmental Physiotherapy Association:
Partnerships keep our work current and appropriate and we continue to strategically consult with like minded international organisations such as the World Health Organisation, International Committee of the Red Cross, Humanity & Inclusion and Health Volunteers Overseas.  Our consortium involvement in ReLAB-HS has broadened our horizons to more directly include other rehabilitation professions in the work that we do and we are delighted to have formed relationships with international associations such as the World Federation of Occupational Therapy and the International Association of Communication Science and Disorders. Look out for more activities in 2022 that support inter-professional approaches to patient care!
Such an awesome team!
For a team that is distributed all over the world meeting in person at least once a year is usually key.  With the absence of in-person meetings for the second year in a row this has posed a challenge to our team.  We have had to learn to deeply understand how working and relationships are challenged by the persistent virtual nature of working and I must personally commend the team for staying motivated, being understanding and staying kind. 
There are many occasions when virtual team bonding can occur and World Physiotherapy Congress was a great example of this. Congratulations to everyone that was involved in preparing the 4 presentations that were delivered, culminating in Nicole Beamish winning a congress award for an outstanding platform presentation for the North America Caribbean region!
Naomi O'Reilly – Five Years of Massive Open Online Courses (MOOCS): Trends in Global Learner Engagement in Physiotherapy Practice
Kim Jackson – Collaborative Open Content Development Projects in Physiotherapy: Development and Global Reach
Nicole Beamish – The Reach, Engagement and Experience of Participants in the 2020 Physiopedia Coronavirus Disease Programme: A Massive Open Online Course
Nicole Beamish – Participant Outcomes of a Massive Open Online Course (MOOC) Developed as a Response to Educate Physiotherapists on Coronavirus Disease 2019
Understanding rehabilitation
Our annual Physiopedia massive open online course, this year titled "Understanding Rehabilitation as a Health Strategy" and delivered in collaboration with ReLAB-HS received a fantastic response. The course aimed to equip health care professionals with a comprehensive knowledge of rehabilitation within the current global context, so that they can play an effective and proactive role in local and global efforts to increase access to high quality rehabilitation services. 1761 individuals representing 111 countries and 25 professions took part in the course with 95% of learners demonstrating increased knowledge. The discussion forums were particularly rich this year with much knowledge and experience of the global rehabilitation situation being shared.
"Everybody should be conscious about the importance of rehabilitation. We need to inform people about these different stages of rehabilitation. If more people promoted rehabilitation to be a part of our health systems at all levels then our patients and the people in our communities will reap the benefits." ~ anonymous MOOC participant
My clinical practice will greatly change in a way that I would be able to share this knowledge with my colleagues and friends about the growing need of rehabilitation, I would also be able to motivate and better be able to spread awareness of benefits of rehab." ~ anonymous MOOC participant
To 2022
All the impacts described above are only realised through the altruistic and tireless work of our very special team of volunteers. The team work extremely hard in their own free time to build this valued professional resource for our global profession. They monitor and update content, they act as a sounding board for ideas and provide advice and feedback from the front line. They help us to share Physiopedia with the world.
To everyone that engaged with Physiopedia in 2021, we thank you!  Editors, your contributions reach rehabilitation professionals worldwide; Partners, your support is invaluable, we are better in all that we do because of you; Users, we thank you for trusting us as your go to information source and making us the most popular rehabilitation resource in the world; Donors, the charity wouldn't be what it is without you, we will always be grateful for your financial support.
This year we focused on building a solid resilient team to support our growing activities that have become wallpaper. Next year we'll be thinking more about broadening our horizons to be more inclusive to other professions in support of interprofessional care and more responsive to our patients in support of patient centred care.   But most of all we will stay true to our values:
Passion – we demonstrate commitment in heart and mind in all that we do.
Excellence – we go above and beyond to exceed expectations; we pursue quality and promote leadership and growth.
Innovation – we are curious to discover; we relentlessly pursue creative solutions to improve our work and our services for our community
Impact – we are a small team with big ambitions; in everything that we do we aim to achieve compelling  results.
Altruism – we all have something to give; we are devoted to the well-being of others.
Collaboration – we respect all physiotherapy stakeholders; we believe in the power of working together to leverage collective expertise.
Community – we value sharing; we encourage connection and communication to strengthen positive relationships.
Integrity – do no harm; we respectfully and ethically interact with each other and those we serve.