Top Contributor – Scott Buxton
September 2020
Scott is an interesting and multi-faceted individual, who very much deserves the honour of Top Contributor for the month of September.  Not only is Scott our Physiospot Editor, he is also a well-established specialist in the fields of geriatrics, fragility, and community-based elderly rehabilitation in the United Kingdom. Scott's dedication to the Physiopedia Team has earned him the Volunteer Black Belt and a reputation as a diligent and effective contributor. We appreciate all that you do Scott.  Thank you for serving at the helm of Physiospot and for making a positive impact on the standards of care within physiotherapy. Congratulations!
Your name: Scott Buxton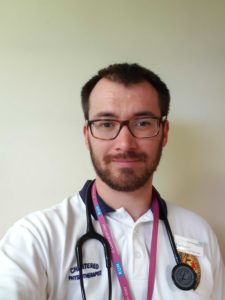 Time active with Physiopedia: I've been volunteering and working for Physiopedia ever since I was a student! Some 8 years or so now.
Current role with Physiopedia: I am the current editor of Physiospot – Physiopedia's online magazine. I sit within the communication teams.
Where did you go to university/college? I went to Coventry University for my undergraduate degree and recently The University of The West of England (UWE) where I am studying my Master's in Advance Practice at the moment.
Where do you work? I work at the Royal United Hospital, Bath where I am the Therapy Lead for the Frailty Team.
Describe your role:  Alongside day to day leadership of the therapists within the Frailty Team, I work as an Advanced Practitioner. As a team we see frail, older patients as soon as they are admitted to hospital. We aim to prevent admission, reduce length of stay as much as possible and improve the standard of care for older people across the hospital. I am also the Allied Healthcare Professional (AHP) Workforce Development Lead.
What is the most rewarding part of being a physio? I think the most rewarding part of being a physio is making a positive difference to peoples lives in so many different ways.
What are some of the more challenging aspects about being a physio? I think one of the most challenging aspects for me, working in inpatient geriatrics, is sometimes people misunderstand the role of a physiotherapist. It's not all about discharge planning – it is so much more than that. Geriatrics offers the opportunity to flex your clinical reasoning abilities because of the frailty of the patients you cannot use normal protocoled  interventions. You need to create something unique for that person. Don't even get me started on "granny dragging"…
What are some of your professional passions? My clinical passions are all things frailty, sarcopenia and inflammatory artropathy in older people. My non-clinical passions are preceptorship, career pathways and workplace culture.
What are a few of your personal passions? Cycling! I reckon I know more about cycling than I do physiotherapy! One of the hardest events I have ever done is The Paris-Roubaix sportive, maybe it was even harder than the Ironman Triathlon I did!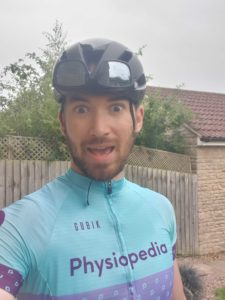 What would be your advice to a newly graduating physio? I would say a few things. Firstly, stay in your lane and spend time discovering your unique style as a clinician. Secondly, if you're in a rotational scheme the first year is all about learning the basics so don't rush into the speciality you think you want to specialize in, you won't make the most of it if you rush in. Thirdly, the most powerful words you can say is "I don't know", there is no expectation to know everything. I certainly don't!
Where do you see yourself in 5 years? Good question! I always ask my team members and people I supervise to create a 5 year plan. It is really good for focussing your mind on what is important to you and gives you structure to your development. It will also help you choose which opportunities to take and which to pass on. I am just coming to the end of my own 5 year plan and I haven't had a chance to sit down and create my next one. It's been a busy summer! When I next get a chance I definitely will be making one.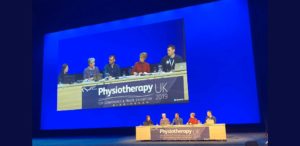 What are the best things about being a Physiopedia volunteer? The team is amazing. What an awesome group of like minded physiotherapists! Being part of Team Physiopedia is special in so many ways, we really are making a difference to health literacy around the world and providing access to top quality Continuing Professional Development (CPD) for those who otherwise wouldn't be able to.
How has being a Physiopedia volunteer helped your professional development/career progression? I can confidently say I wouldn't be where I am now without Team Physiopedia. The opportunity to work with clinicians and experts around the world really puts things into perspective and opened my eyes to what is possible. I cannot underestimate the impact of writing articles and keeping up to date with a broad range of evidence/ literature has also had on my development. It really has given me a lot of transferrable knowledge I can take to my specialty. Overall, I am a much more versatile clinician.
What are your hopes and aspirations for Physiopedia? I hope Physiopedia continues to be the leading provider of CPD for our profession worldwide.
What is your favourite Physioplus course? I really enjoyed Laura Finucane's course on Red Flags. It's a must watch for all Physiotherapists regardless of you speciality / area of work. To have such an expert presenting on Physioplus is really impressive and a demonstration of how good the Physioplus platform is. Anyway, I can't say my own can I? (Smiley Face!
Anything else you would like to share? Not at this time!
If you would like to know more about Scott's course on frailty, click here!