Physiopedia is a charity, a not-for profit organisation run by a team of volunteers. All funds that we raise go directly towards achieving our mission. We educate, we build community and we advocate for our profession. Every month, over 2 million individuals from nearly every country in the world learn from the Physiopedia website. Empowering physiotherapists, other rehabilitation professionals and the health seeking public with knowledge means better health care, improved functioning and reduced disability around the world.
Community and collaboration on a global scale
Collaboration is at the heart of what we do – whether it's collaborating with universities, facilitating research opportunities or working with our Partner organisations, the entire Physiopedia project is based on collaboration – and everyone is included. We would like every physio in the world to be involved in this community-driven project for our profession. With our Top Contributor each month, and new Annual Awards Programme, we make sure we celebrate all the dedication and teamwork.  Maybe you could collaborate with us too or even join the team!
Removing barriers to Physiotherapy knowledge everywhere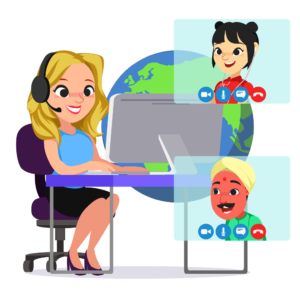 You have probably heard about our world famous annual free online courses but you may not have come across all of our exciting content development projects – from creating resources for Physiotherapists working with refugees to collaborating with the International Committee of the Red Cross to create content on cerebral palsy – these projects impact far and wide.
For those of you with Physioplus membership, you'll know how we work together with topic specialists to help them to share their knowledge (could this be for you?), but you might not realise that every subscription to Physioplus helps to support free access to the online education at Physioplus to those in low-income countries and discounted access to those in middle-income countries. This is a really important one for us – we are passionate about giving people on opposite sides of the world access to the same great learning resources, and removing financial barriers to learning wherever possible.
Supporting the profession when in need
In March this year Team Physiopedia had a huge challenge on our hands – to put together a series of free online COVID-19 related courses to increase specialist knowledge and support Physiotherapists across the globe during this global pandemic. There are now a whopping 
13 courses on the topic
, all freely available. We also did our best to support educational institutions during this time by offering all universities
1-month's free access to Physioplus
 to assist in their transition to remote learning and replace lost face-to-face hours during the height of the pandemic.
Having a whole lot of fun and making a difference!
You can't keep a team of >50 international volunteers actively collaborating without making it a great place to be. From all the
perks of being a volunteer
 to our on- and offline hangouts, a very special community spirit keeps this team growing. If you fancy a challenge that will open up a whole new world of possibilities then now is the time – our next
Volunteer Orientation course
starts in September, your opportunity to
join #TeamPP
– will we see you there?