The holidays are just around the corner. Join us in showing our appreciation and gratitude to the volunteers of Physiopedia.  For the month of December, we will shinning a light on our brilliant Content Manager, Kim!
 Monthly Volunteer Shout Out: Kim Jackson
Your Name: Kim Jackson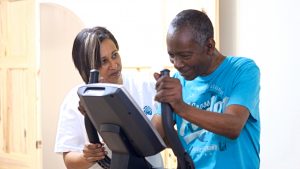 Time active with Physiopedia: I started as a Volunteer with Physiopedia in July 2018.
Current role with Physiopedia: Content Manager.
Where did you go to school?  I did my physiotherapy BSc (Hons) degree at the University of East Anglia in the United Kingdom.
Where do you work?  I started my working career in the UK working for the NHS, but in 2005 I moved to St Lucia. It has been an interesting and rewarding move.  I currently work in private practice where I see a range of clients.  I also spend a lot of time working with athletes, not only to address their injuries but assessing their biomechanics to improve their sporting performance.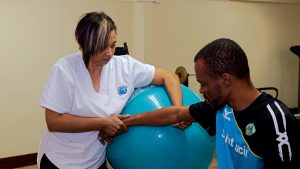 Describe your role (clinical / field work / research / academia etc.): I currently divide my time between my private practice, providing on-call hospital services and my role as Content Manager for Physiopedia. My work is so varied and I learn something new every day.  Being in St Lucia can be a little isolating at times, and being part of the Physiopedia community has made a big difference.  Being part of this amazing team is awesome!
What is the most rewarding part of being a PT?  I suppose the most typical answer is helping people reach their maximum potential and involving them in the process. I enjoy watching the surprise on people's faces when you talk to them about what is important to them and making them a key player in their rehabilitation plan.  Being able to persuade them that exercise is a key component of their recovery journey and seeing their joy (and surprise) that exercise really does make a huge difference.  I still spend a lot of time trying to convince people that it is ok to move and exercise.  Once they understand that rehabilitation is about them, and giving them the tools to improve, I feel that I have made a difference.
What are some of the more challenging aspects about being a PT?Physiotherapy has changed a lot since I first did my training.  Evidence-Based Practice (EBP) was still in its infancy and care plans were designed on individual preference and clinical experience. The transition has been a positive step for the profession, but it is not always easy finding the right evidence to support best practice, especially living in the Caribbean.  This is how I became involved with Physiopedia; it provided me with the tools and resources to look at not only the best treatment options and protocols, but also opened up a whole resource of information and training opportunities.
What are some of your professional passions? I love watching people move, biomechanics has always fascinated me even during my time of studies.  I would often sit and watch people walking and identifying the different ways individuals move. I suppose that is what led me into neuro-rehabilitation and sports.  I enjoy identifying weak and problem areas and seeing how addressing these helps a person manage pain and in sports improve their performance.  I also love spreading the word about how great physiotherapy is, that is why I am so happy being part of the Physiopedia volunteer community.
What are a few of your personal passions? I love to learn!  If I could live out all my personal passions I would spend my time reading and travelling and of course, being a physiotherapist.  Being a physiotherapist has enabled me to combine my professional and personal passions – being involved in sport has allowed me to travel the world and of course, it requires me to keep on top of the latest research, this helps me to fulfil my desires to travel and read.
What would be your advice to a newly graduating Physiotherapist? It is ok not to know everything and it is ok to ask.  I remember being a new graduate and the pressure,  because I felt I needed to know about every condition and every perfect treatment.  If you get the opportunity to find a mentor who can help guide you through difficulties and help you identify your strengths and weaknesses.
Where do you see yourself in 5 years? I am happy with the point I have reached in my life and career. Maybe I will just be in a different location but still doing what I am doing now!
What are the best things about being a Physiopedia (PP) volunteer? Being a volunteer is great and allows me to share ideas with colleagues and to reach out to people around the globe who do not always have access to good, reliable information and resources.
How has being a Physiopedia volunteer helped your professional development /career progression? Being part of Physiopedia has given me the opportunity to explore physiotherapy around the world, which is great as I am currently living in St Lucia.  We are a small group of physiotherapists and do not always have access to the best resources.  I feel I have learnt a lot and developed new skills that I would not have had without volunteering for Physiopedia.
What are your hopes and aspirations for Physiopedia? I want to be part of the Physiopedia mission, and success story, of sharing free knowledge around the world.
What is your favourite Physioplus course? I love them all!  I honestly cannot say I have one favourite, they are all my favourites.  When I first discovered Physiopedia my goal was to complete every single course, and I did start off well, but my role as Content Manager keeps me busy and I do not have enough time to do all the course, although I keep up with all the latest developments by reviewing pages covering a wide range of  topics!
Anything else you would like to share? I would just like to thank Rachael and Tony for this amazing resource and their endless energy to keep moving the Physiopedia project forward!
Happy Holidays from the Physiopedia Team!