It's that time again, join us in recognizing the muscle behind Physiopedia (pun intended!)
The Physiopedia team is appreciative for the drive, determination and contributions of another dedicated volunteer. For the month of November, we would like to present Lucy!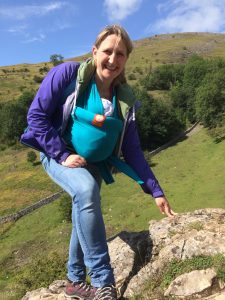 Your Name: Lucy Aird
Time active with Physiopedia: I think it's coming up to 10 years in the new year, WOW that's flown!
Current role with Physiopedia: Communications Manager. When you get The Latest emails with all the updates from the Physiopedia community each month, that's me! I also put the monthly Member Update together and help Rachael Lowe with keeping our valued Partners up-to-date each month. Probably my most time-consuming, but very rewarding, task is putting together the Evidence Updates that Physioplus members (and some of our Partner organisations) can sign up to, which I do alongside Scott Buxton. This involves trawling through all the new research published each month and picking out some interesting snippets to help members to stay abreast of what is hot in the world of Physiotherapy. I work closely with other members of the Communications Team (Rachael Lowe, Scott Buxton and Selena Horner) and love seeing what they are up to each month too, keeping Physiospot and the social media feeds the go-to source for Physiotherapy information.
Where did you go to school? I came to Physiotherapy as a second career. I started my health-related education at the University of Leeds in the UK, where I studied Pharmacology. After an interesting few years working in the medical communications industry, I was drawn to Physiotherapy and enrolled on the Masters Programme at Southampton University in the UK.
Where do you work?  I work in the UK and I'm still figuring out where I'd like to specialise. I've had some fantastic experiences working in both Community and Outpatient Neurology and in Musculoskeletal Outpatients, and who knows what is next?!
Describe your role (clinical / field work / research / academia etc.) :  I'm currently on maternity leave from clinical work but I keep in touch with Physiotherapy through helping my local NHS Trust with managing their therapy-based social media accounts, and of course by continuing to work with Team PP.
What is the most rewarding part of being a PT?  Hands down, it's being able to help people to get back to (or start) things they didn't think they'd be able to, whether that's a short-term gain for someone with a long-term condition, or a return to function for someone after an injury. I really enjoyed helping to develop and run classes for people diagnosed with Parkinson's Disease in my most recent PT role – being able to provide a place for people to not just learn how to self manage some of their symptoms through activity, but also providing a forum to discuss worries, socialise and help them gain confidence in what they are able to do, rather than focusing on what they might feel they are unable to do. Being a Physiotherapist is all about relationships for me – with patients, my team, other colleagues, and indeed with people from all over the world thanks to Physiopedia.
What are some of the more challenging aspects about being a PT? Not being able to help everybody! Whether that's through service limitations, financial restrictions, or disease-specific limitations. Navigating these challenges to help patients achieve in one way or another is what keeps things interesting. And of course keeping up-to-date. It's such a rapidly changing field and we're always learning; you never get to just "be" a Physiotherapist, I think if you aren't continuing to learn and evolve your ideas in this field then you're not able to do the best for your patients, which makes it a very challenging, but also exciting career to be part of.
What are some of your professional passions? Helping people back to being physically active, particularly encouraging people to spend time outdoors with all the added mental health benefits that can bring – but mainly just trying to help people have fun in what they are doing. I've also developed a real interest in technology and Physiotherapy, particularly how it can help us to keep on top of CPD.
What are a few of your personal passions? The great outdoors – I'm a huge advocate for people of all ages being able to enjoy the outdoors, whatever the weather (it's a good job considering I'm based in the UK!). I feel that being outside helps not only with our mental health but to give a real appreciation of the wonderful and fragile world we live in and I hope to bring up my three little boys to be able to appreciate this too.
What would be your advice to a newly graduating Physiotherapist #JustKeepLearning No one knows it all, and you never will, but don't let that stop you having confidence in what you're doing, whilst never being afraid to be open about what you don't know.
Where do you see yourself in 5 years? I'm still working that out, but I imagine I'll be focusing more again on my Physiotherapy career (it's taken a bit of a backseat whilst having children). I'd like to be working in a specialist area and hopefully be doing some more research too.
What are the best things about being a Physiopedia (PP) volunteer? The Team! Where else would I get to work with Physios from all around the world at the touch of a screen? So many experiences that I've had thanks to being part of this team, to name a few: running global research surveys, attending congresses, having a poster at WCPT, taking part in a Hackathon, being part of an App development brainstorming team, oh and having some great adventures along the way- alpine climbing with the team and being inspired to do my first (sprint) triathlon. Being part of Physiopedia feels like an opportunity to help people and the profession on a global scale.
How has being a Physiopedia volunteer helped your professional development /career progression? So much! I started working with the PP team when I started my Physio training, and it's thrown me into a whole world of resources and inspiration. Probably most pertinent at the moment is how being part of Team PP has helped me to maintain a career in Physio through three maternity leaves. It has allowed me to really stay connected to the profession and find ways to still be 'a physio' even when I'm not working clinically. I think without this I'd have felt a bit lost. And of course there's all the resources we get access to with Physioplus as volunteers, but then you all know about that!
What are your hopes and aspirations for Physiopedia? That it continues to evolve, and never stops being a crazy train with just a wonderful, flexible, inclusive and valuable ethos to help people, wherever they are in the world. I love how Physiopedia is developing, particularly the continuing expansion in helping people who have less access to the resources and training that we take for granted in the UK.
What is your favourite Physioplus course? Well I've just set out to start the Mental Health Programme, and it promises to be a cracker!
Anything else you would like to share? If you don't get any of our e-mails you can sign up here for all The Latest news from Physiopedia and the Physio profession, and if you're a Physioplus member make sure you are signed up for your evidence update here.
Please be in touch- if anyone has any feedback or ideas, particularly related to our newsletters or evidence updates I'd love to hear from you!