For those of you that are new to PREP it stands for Physiotherapy and Refugee Education Project. The project is a partnership between a number of academic organisations which of course includes Physiopedia. The overall aim of PREP is to create a free online course for physiotherapists to enable them to meet the needs of the refugees who find themselves in their new country.
There are many milestones of such an ambitious project – the first of its kind – and several of these have already taken place.
The Scoping Review
The scoping review was the first big milestone to be completed. In this video Rachael Lowe discussed the findings with Emer McGowen from Trinity College Dublin:
To undertake a review of this size involves a mammoth task so thank you to everyone who was involved. The initial search strategy found over 1000 articles which were then screened down to the final 10 peer reviewed articles which were included within the review. As well as the peer reviewed article 'grey' articles were also screened which led to a further 12 being part of the final review. The data extraction could then take place and this boiled down to 3 key themes emerging from the 12 reviewed articles.
Refugee Health
Cultural Confidence
Refugees and the Healthcare System
These themes can then be broken down into sub-themes which are discussed in detail by Emer in the video above. These themes will now go on to inform competencies alongside the results of the expert consensus panel and informant interviews.
Below is a ranked list of themes from the expert panel which, alongside the informant interviews, will inform the final list of competencies and help direct the curriculum development. More information about the panel will be shared in an upcoming post.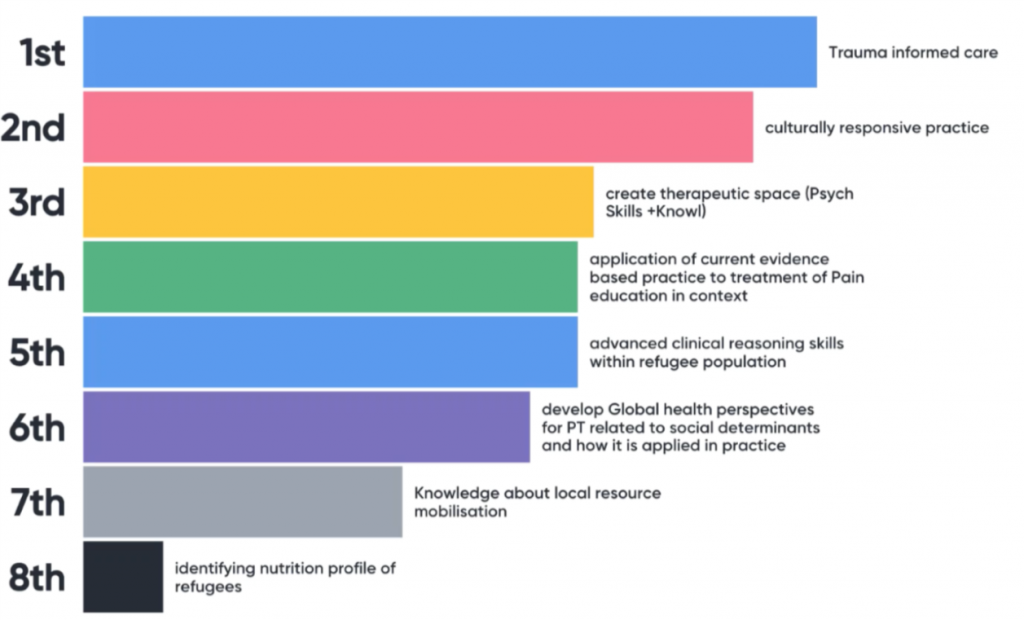 Why is PREP Important?
The demography of Europe is changing. There is a significant migration of refugees fleeing violence and persecution who make the tortuous journey towards Europe. While many arrive through Greece and along the Mediterranean coast, the goal of the displaced populations is not to remain there. Most make their way to Scandinavia seeking a better life, employment, education and acceptance.
Due to the tortuous conditions in their home country as well as the toll of the journey across Europe, the refugees are likely to be suffer from poor overall health. They are also susceptible to picking up diseases and illnesses along the way during their battle to safety.
From a rehabilitation and health perspective this population struggle to have their health needs met in their new countries, particularly from a physiotherapy perspective. As a profession we know very little about the knowledge, skills and competencies that we need to enable our colleagues around the continent to help those who who really need us.
Follow the PREP on Twitter and on the PREP website.