Today 2.4 billion people people are in need of rehabilitation services. Yet there is a significant unmet need for rehabilitation across all world regions. In some countries more than 50% of people who require rehabilitation services do not receive them.
This was the bottom line at the Second Global Rehabilitation 2030 Meeting in Geneva this week where representatives from many rehabilitation organisations were present (featured image, credit @WHO) including a strong physiotherapy representation (below, credit @pdavocabra).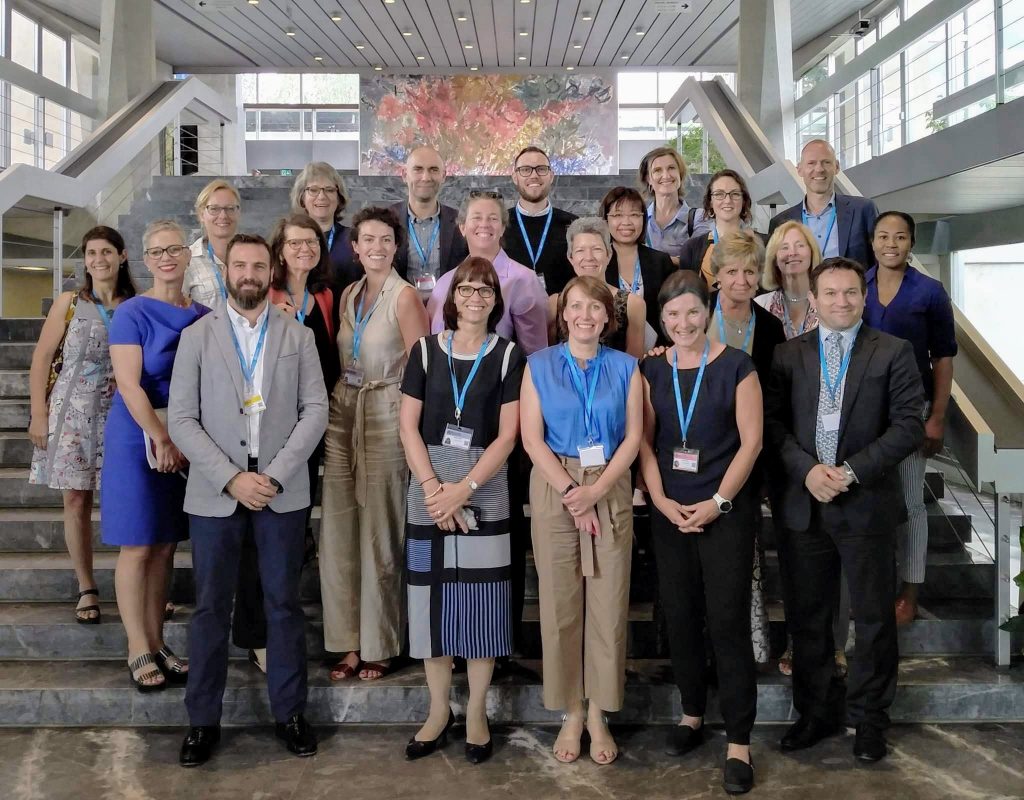 The meeting highlighted the increasing need for rehabilitation worldwide associated with changing health and demographic trends of increasing prevalence of noncommunicable diseases and population ageing. The proportion of individuals aged over 60 is predicted to double by 2050 and there has been an 18% increase in the prevalence of noncommunicable diseases in the last 10 years.  Currently the need for rehabilitation services (WHO description in box below) is not being met and although the health workforce is increasing it is predicted that there will be a shortfall in rehabilitation workers, particularly in low income countries.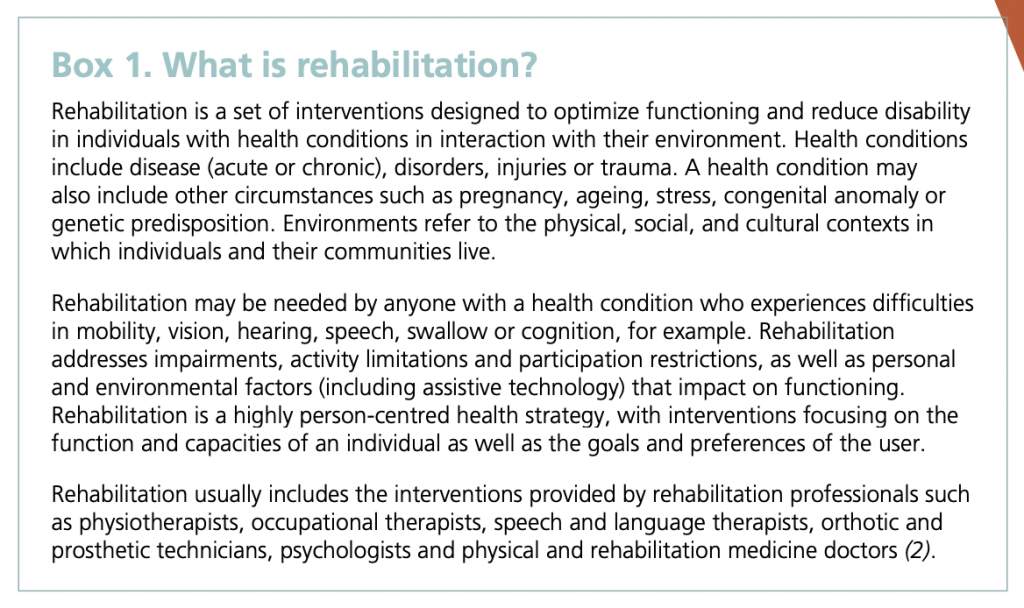 To satisfy this unmet need many of the presentations at the meeting shared experiences and presented opportunities to increase rehabilitation services globally:
Alarcos Cieza highlighted the need to focus on increasing function and made the case for adding "Functioning" as a health measure alongside morbidity and mortality with the public health strategy of "Rehabilitation" alongside promotion, prevention and treatment.
Jim Campbell suggested the development a strong multidisciplinary rehabilitation workforce that is suitable for country context, promoting rehabilitation concepts across all health workforce education, and to align education and training to respond to population needs.
WHO released the publication "Rehabilitation in Health Systems: A Guide for Action" which provided opportunities for discussion and a guideline for including rehabilitation in health systems.  Several examples of this in use were given.
The need for an investment case that demonstrates the impact of rehabilitation was made by many speakers.  This is the best way for us, the rehabilitation community, to gain the attention of funding from donors and investment by policy makers.
We must also mention the entertaining physical activity breaks that were led by Dr Temo Waqanivalu.
At the end of the meeting, in a fishbowl session Alarcos asked us for concrete actions for how we planned to invent the future. Physiotherapy was admirably represented by WCPT President Emma Stokes,  while Physiopedia sat quietly at the back reflecting on how best they could take action. Our specific attention at Physiopedia is always focused on the role education plays in contributing towards these agendas. Investment in educated and well trained health workers was mentioned in several sessions as one of the requirements for strengthening the global rehabilitation workforce.  There was no mention of how to do this but I guess that's where we come in?
Physiopedia will contribute to Rehabilitation 2030 by committing to educate rehabilitation professionals worldwide in all contexts and at all stages in their professional career.
How are we going to do this? We have unprecedented experience of providing education for a variety of rehabilitation professionals in all contexts all over the world.  Building on this experience and existing achievements we will align our plan with Rehabilitation 2030.  As for the actual solution, we have an idea, watch this space….