The excitement is building within the Physiopedia team for our attendance at the WCPT Congress 2019 in Geneva, now only 16 days away. We have a very busy schedule at the conference with members of our team participating in many different activities over the three days of the conference, including focused symposia, panel discussions, presentations and posters. Plus we have our base in the exhibition hall in booth T2 where everyone is encouraged to drop by and learn more about our many projects and activities. Here you can meet some of the key people who make all this possible! Please do come and hang out with us at what we hope will be the friendliest and most interesting corner of the exhibition hall.
Don't forget visit Physiopedia at exhibition booth T2!
In order to help conference attendees and also our team members stay up to date with all the Physiopedia conference contributions, we have built a simple free web app called Physiopedia at WCPT 2019. You can quickly add this app to your phone or tablet home screen by following the instructions when you view our app in your device web browser. The easiest way to do this is to click on or scan the QR code below with your device camera and select to open the related link.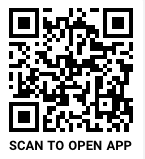 Please feel free to share this app with any colleagues who are attending the conference and we look forward to seeing you all there! If you can't attend you can still use this app to follow Physiopedia social media updates released during the conference and so experience the conference with us virtually!