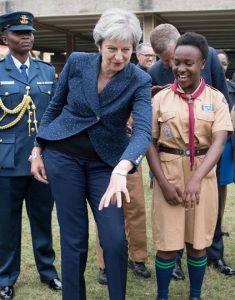 Ah, the new year celebration. A time of renewed opportunities, fresh starts,and… that's right, resolutions! It's also a time of massive drunkenness, over-the-top fireworks, and awkward dance moves, but mentioning those wouldn't really help me get my message across.
Anyway, back to the resolutions thing. After all, if you read the article title, that's what you're here for. I thought of naming it "You won't believe what resolution this physio made for 2019" to keep up with the times, but then decided against it. Without further ado, I give you…
THE 2019 PHYSIO RESOLUTIONS HANDBOOK
1 – I will listen more to what my patients have to say!
Well, I hope you do, but really don't wait to make that change. The reason why I say this is that, apparently, the longer we've been working… the sooner we interrupt patients.
I'm sure you won't be too interested in hearing Mrs. Jones talk about the cat she had back in 1983 and ran away when she was trying to fit it with a sweater she knitted, but maybe we need to let them speak just a bit more and not assume it's all going to be cats and sweaters.
While we're on the subject of communication, maybe let's also not try to scare our patients with what we do end up saying. Words hurt!
2 – I'm going to take so many courses!
I really don't have any evidence on this, but if all physios loved CPD, it wouldn't be mandatory to renew licenses. Just saying. Sure, people may argue that they can't take time off from work and family, or that courses are too expensive. By the way, how awesome is Physioplus? So many courses at great rates given by amazing professionals. Trust me on this, I'm totally unbiased. Would I lie to you?
Now, given the short time you have available, it's important to choose the courses that offer the most bang for your buck. Of course, this will come down to personal preference; for me, there are some red flags (see what I did there?) that draw me away from courses:
Courses named [Guru name] method;
Courses that "will completely change the way you practice";
Courses that involve supplies you can only buy from (in what I'm sure is a coincidence) the course provider;
3 – I'm going to be all about evidence-based practice!
I'm not even going to open my office door without looking at an ergonomics systematic review on how to open office doors! I'm going to tattoo "EBP forever" on my forehead!
OK, I went a little overboard there. Dramatic effect, and all that. Obviously, it's not a matter of "I'm more evidence-based than you". It's also not about who reads the most articles; my favorite definition of EBP is something like this: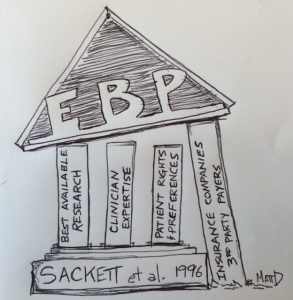 While we're on this topic, there are a couple of reviews that shows we as a profession still have a bit of way to go as far as EBP is concerned.
4 – I'm going to try and convince my patients to exercise more!
This also seems like an excellent idea! You'll make your evaluation and then create a super personalized engaging exercise plan, with timely progressions, and you'll motivate patients along the way! And when you ask whether they are following the program and they say "Why yes I am! To the dot!", you pull out the accelerometer you hid in their ankle weight and find out it wasn't *exactly* like that. Of course, only someone truly horrible would do something like that… right? Well, that's exactly what some perfectly good people thought of doing, and it went exactly as you'd expect!
But really, get people moving. You know, "the best exercise is the one getting done", "make them move, make them alive", "exercise is medicine", and so on, and so forth.
5 – I'm going to lead by example!
Again, I don't have any evidence to show about this, but if I was a patient and my physio told me to do this or that exercise and was totally incapable of demonstrating it, my confidence would go down the drain. After all, if the professional in front of me can't do it, what chance do I, an injured person who never really exercised, have? Now, this doesn't mean all physios have to be able to bench press 200kg, but if someone asks me to do a proper lunge with rotation, it's reassuring that the person in front of me can show me it's not a big deal. Not to mention our role as promotors of physical activity. Unfortunately, there are some signs we're not that good as we should be in that aspect.
So what are your physio resolutions for 2019? Any of the listed above? Continue being awesome? Stop reading stupid articles about New Year's resolutions?