2018 will be the year that we remember as taking a big leap to upscale our online continuing education and professional development offering.  We made a major update to the platform and learning management system, added over 100 hours of new online courses, are working with new course external accreditation and validation organisations, added exercise software options and offered some courses in French.
At the end of this year we are delighted to be working with 37 organisations and educational institutions all over the world to provide free access to Physioplus for their members, staff and students.  In addition to this our individual subscribers have been increasing making for a unique experience to learn with colleagues all over the world.  One of the most amazing things that we see in Physioplus is the sharing of experiences and practice from various countries around the world, everyone is a teacher and a learner!
We were excited in early 2018 to finally release our updated website and learning management system.  Specifically built to meet the needs of physiotherapists and physical therapists around the world the platform offers an innovative system that automatically records your learning, provides completion certificates and awards related CEUs/CPD points.  Your personal learning dashboard is the main portal that displays your progress, completed learning activities, the courses you are taking, badges you have received and the Physioplus points you have collected.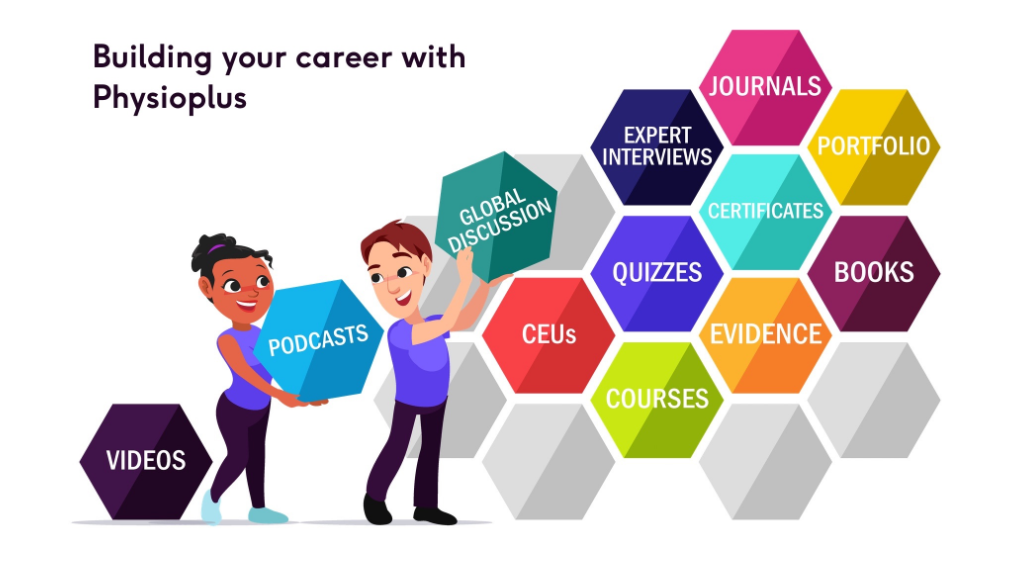 Once the new platform was released we focussed on building courses and have released over 100 hours of new courses in 2018, bringing the total to over 300 hours of physiotherapy specific learning activities. Our courses can be short (1-2 hour), mid length (~4 hours) or long (16-24 hours) with increasing levels of engagement required the longer the course is.  Also, this year we released the concept of 'Physioplus programmes' which offer a collection of courses that are brought together with a final written assignment.  Feedback from participants has suggested that our programmes represent the equivalent of a UK Masters module in the topic. Ultimately we aim for these programmes to be recognised on a similar level.
Another very exciting development are our new partnerships with selected topic specialists from all over the world, who are helping us deliver evidence based, clinically relevant and up to date courses.  Working with these highly respected individuals ensures that we are sharing the best knowledge from the best people to physiotherapists and physical therapists all over the world.  Wherever you are located you can now learn from the best.  If you are a topic specialists you can apply to join the team here. Look out for many more coming in 2019!

Providing courses in a second language is a massive challenge for us, but as a provider of continuing education to physiotherapists and physical therapists all over the world, it is something that is important to us. A fabulous collaboration with Humanity & Inclusion has enabled us to deliver selected courses (Stroke, Clubfoot, Wheelchair Service Provision) in French. This is particularly relevant to our users in some parts of Africa, Haiti and our partners in Guyana, Niger, Senegal, Benin, Ivory Coast and Mali.
External validation is extremely important to us and we have been working closely with ProCert in 2018 to accredit all our new courses. ProCert is a program of the Federation of State Board of Physical Therapy that evaluates physical therapy continuing education courses using comprehensive research-based standards. Courses meeting these demanding requirements are awarded ProCert certification with Continuing Competence Unit (CCU) values reflecting compliance with the Standards. Continuing competence activities certified by ProCert are currently accepted by 34 states in the USA. In addition to working with ProCert in the USA we continue to have our courses accredited in South Africa by the South African Society of Physiotherapy who is a registered accreditor for the Health Professions Council of South Africa,  and in Australia by the Australian Physiotherapy Council. Learn more about our accredited courses here.

Alongside our accredited online courses we have added several other new and very useful resources.  For example a new dynamic portal to help you find quality podcast episodes that are of interest to you. Our  podcast portal provides a dynamic search facility that searches all physiotherapy related podcast episodes from approved providers and filters them for your specific interests.  No more waiting for the podcast to come to you!  The monthly evidence updates that we send to you by email were reviewed this year following a user survey. You asked for them to continue in their current form so they will!  These monthly emails provide a selection of the latest published clinically relevant research straight to your inbox.  No more trawling through the literature to find what is of interest to you! Plus, in a collaboration with Physitrack you can now get their patient engagement and exercise prescription tools at an outstanding 50% discount.
Physioplus has taken huge strides this year and we looking forward to even greater things in 2019. It's only going to get bigger and better!