To take the pain out of searching for podcasts most suited to your interests, Physioplus members can now easily access physiotherapy related podcasts from quality trusted sources using a specifically created dynamic search facility.
There are many, many ways that information of value to practising physiotherapists and physical therapists is now shared online. Podcasts are one form that many may know of, but may not be familiar with as a useful professional resource. Unlike Twitter and many blog posts, podcast episodes provide a long form that allows subjects to be explored in detail. Unlike research papers, podcasts episodes have a conversational style that is much more accessible to the listener and commonly focus on the translation of research into practice rather than the specific details of a particular study and its data. Finally the audio format allows a podcast episode to be enjoyed while engaged in other daily activities (e.g. on a commute, walking the dog, at the gym etc) so it is possible to fit them into our increasingly hectic lifestyles…
In our opinion there are currently several quality physio related podcasts published for free on platforms such as iTunes and SoundCloud. Examples that stand out are:
There are many ways to listen to a podcast and also subscribe to be kept up to date as new episodes are published. Most common is the use of a podcast app on a phone (e.g. the Podcasts app that comes pre installed on an iPhone and Google Play Music on Android devices). These allow the listener to download an episode for listening at a later date when internet access may not be available.
The issue… search and discovery!
The big issue with podcasts as a source for research is searching for and discovering episodes across podcasts that relate to a particular topic of interest. Dedicated podcast search engines such as Audiosear.ch and the iTunes podcast search unfortunately don't do a very good job of discovering the many relevant episodes in any of the searches we tried. To address this problem we have built a physiotherapy/physical therapy targeted podcast episode search facility and are offering this for free on Physiopedia Plus for both Trial users and Full members.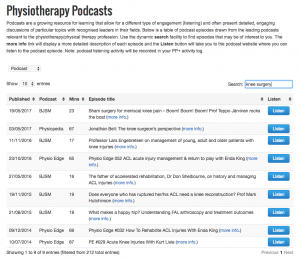 The PP+ Physiotherapy podcasts page presents a table of podcast episodes drawn from the four podcasts listed above. These are listed in order of release so the latest episode is easily found at the top of the list. Most useful is the table's dynamic search facility which filters the episode listing as you type in a topic of interest. The details of each episode can then be viewed by clicking the More info link. So using this facility you can quickly discover a relevant short list of episodes based on your search terms, explore each episode description for more details and then click to listen to a selected podcast episode. As the facility is part of the PP+ platform each podcast episode you listen to is recorded in your PP+ activity log so you can reflect on and review this professional development activity at a later date. To find this new facility login to PP+ and select the Podcasts menu item displayed below the Resources menu item, or follow the link below if you are already logged in.
Go to the PP+ physiotherapy podcasts page (NB – you need to be logged in to a trial or full account to access this page)
We hope that you find this facility useful for discovering and engaging with the rich set of resources that podcasts episodes provide. If you are aware of a physiotherapy related podcasts that should be included in this facility please let us know.