For years, I struggled with treating athletes with back pain.  Coming out of PT school, I followed much of Greg Hick's work in which he used a stabilization Clinical Prediction Rule.1  Many of my athletes improved, but I felt like I was missing something.  I pursued a certification from the McKenzie Institute and felt more prepared, but still, something was not right.  Finally, I began to be exposed to the ideas of Regional Interdependence after reading and hearing from Rob Wainner.2  I knew this was something I had to learn more about.
The key with regional interdependence is coming to the conclusion, that while a certain area may hurt, and there are certainly impairments possible in that area, we have to look beyond the painful area.  There are likely dysfunctional movement patterns or some other influences that are contributing to the issue.
I now regularly treat athletes with back pain and absolutely love it.  It is a frustrating, challenging, and most of the time, successful experience.  I feel like I hold the "master key" because I now understand the complexity of the athlete with back pain can be simplified by understanding some key patterns with regional interdependence.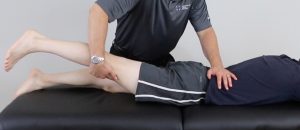 If an athlete shows poor hip mobility, something is going to have to give.  When they run and reach late stance, they are going to compensate through their back.  When they swing a baseball bat and follow through, the torsional stress is going to be in their low back.  Every movement is going to change and put stress where stress was not intended to go…..eventually leading to failure and pain.
Note the increasingly excessive lordosis with the hip extending. I explore this in one such case in my recent publication.3
References
Hicks GE, Fritz JM, Delitto A, et al. Preliminary development of a clinical prediction rule for determining which patients with low back pain will respond to a stabilization exercise program. Arch Phys Med Re­habil. 2005;86:1753-1762.
Wainner RS, Whitman JM, Cleland JA, et al. Regional interdependence:  A musculoskeletal examination model whose time has come.  J Orthop Sports Phys Ther.  2007;37(11):658-660.
Kaplan A, Application of Regional Interdependence in Treating an Adolescent Athlete with Low Back Pain: A Case Report.  Orthopedic Practice.  2016;28(4):254-262.