With rugby 7s making its debut in the Rio 2016 Olympics and the Hong Kong Rugby 7s team currently in Monaco fighting for a ticket to Rio, I had the great opportunity to interview Mr Justin Faulkner, owner of PhysioCentral and the current lead physiotherapist for the Hong Kong Rugby 7s Men's team. Below is our conversation on what it's like to be a physiotherapist for elite sports teams and on sports physiotherapy in Hong Kong.
Can you provide us with a bit of background about yourself, and how you got to where you are now as a physiotherapist?
Because I grew up in HK and studied in the English school system, I ended up going to university in the UK. Following university I worked as a locum in several London hospitals and was lucky enough  to meet one of the physios from West Ham Football Club. While I continued to work in the hospital system, I was given a job at West Ham primarily looking after their youth development team. After two years I decided it was time to move on and came back to HK in 1998 and began working at another practice in HK. I became a partner there in late 1999 and then left to set up PhysioCentral in 2003. While doing this, I have also worked for HK Rugby since 1998. In 2006 I became the lead physio for the HK 7's team which has taken me to an amazing number of events and places. I write this on a plane on the way to the final Olympic qualifying repechage in Monaco this weekend.
Was sports physiotherapy the area of physiotherapy that you wanted to get into when you graduated?
Yes, sports and outpatient/orthopaedics was all I was interested in. I really had no interest in working in hospitals.
You mentioned you were given a job at West Ham. Many people would die if given a job with a professional sports team. How did this happen?
Originally it was a chance meeting. I went on a ski trip with the West Ham physio and we became friends and I got a job. I had always been interested in working with sports and with active people so working at the elite level was a logical progression. As with a lot of these things there is some luck involved.
That was very lucky. As the lead physio with the men's rugby 7s team sounds just as exciting, if not more so than working at West Ham. What does the role entail?
My role has changed a little since it began back in 1998. Back then we did everything from warm up to recovery and looking after the strength and conditioning. In 2006, things got a lot more professional and I was then just able to do my proper role as physio and the HK Rugby Union (HKRU) employed strength and conditioning coaches. Now as the HKRU has full time players and two full time physios my role has been reduced further and I now simply travel with the HK7's team to all their tournaments and on returning hand over the players to the full time HKRU physios.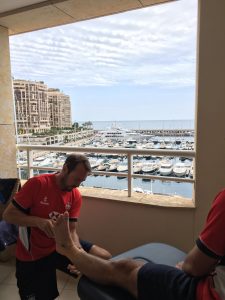 Given your experience with a professional football (soccer) team and a national rugby team, can you describe the differences between the two? 
I finished with West Ham 18 years ago. One of the players I worked with is now the manager! They had plenty of money and space even back then. They were getting crowds in the 25-35,000 range every week so the pressure on having players back was big. It also meant that we couldn't try anything different as the players were so valuable to the team and manager. With the HKRU I have known a lot of the players a long time and have therefore been able to try different types of treatments to get them back on the field quickly. The West Ham players were also very much out for themselves as it was their livelihood and often their careers were fairly short. A lot of the HKRU players have over time had another career to fall back on so it's not the be all and end all for them.
With all the money and pressure of getting players back, it sounds that sports medicine in the UK is well established. What are your thoughts on where HK is in terms of sports medicine?
I think HK is very lucky in the rugby world to have such high quality help from the medical profession. I do however believe that in general HK needs a slightly more aggressive approach to sports medicine. I believe if we had more athletes here then it would perhaps bring this on but HK has a strong history of academics over sports. So without large numbers of athletes to work with you don't have a need for lots of sports medicine.
What would you recommend to physiotherapists wanting to work with a sports team?
The most important thing is to truly understand the game you are trying to work with and you must have played sport yourself. No question about that. If you can't understand what it is like to be a sportsperson you can't understand what they are thinking. Very few elite sports people play without any pain. You just have to know how to deal with it and also whether there is going to be any long-term damage or you can get them back on the field again next week. So you have got to understand the game and the feeling of playing sport.
Finally, what do you think of your chances in Monaco?
I think we can beat a lot of the teams here but we will need a little luck and everyone to be fit to win. As it stands as I fly to Monaco there are only 11 players with me so it's going to be hard to have 12 fit ones come Saturday!!
Good luck to the Hong Kong Mens 7s team with their attempt to get that golden ticket to Rio.