Each year the world of technology gathers to show off its latest products at the massive Consumer Electronics Show CES in Las Vegas. The biggest buzz at the 2016 CES technology conference was around the release of consumer focused Virtual Reality (VR) products that appear to be close to being ready to appeal to a mass market. A VR system seems to be an unlikely family purchase now, however as the iPhone has demonstrated mass adoption of radical, new technology can proceed very quickly if the right set of ingredients come together. It is not unreasonable to predict in 5-10 years a VR system will be available in most domestic homes connected up to the internet connected TV / computer / games console.
At CES 2016 three VR headsets Oculus Rift, Playstation VR and HTC Vive received massive attention. There is definitely something new here with users of the these systems using words like "breathtaking", they describe "astounding experiences" and "mind-blowing" games and this finally at a price point that is no longer just for university research departments. Is the technology ready for the masses yet… probably not. Are the masses ready for the technology yet… probably not either. But the potential is now here for us all to experience and the implications for all aspects of life including our professional lives as physiotherapists could be dramatic.
As a technology geek I was desperate to get a glimpse of this brave new world but like many of us I am not ready to invest in the latest hardware which currently is very definitely version 1.0 and will be quickly surpassed by future improvements and prices are likely to decrease over time. Thankfully there is a budget VR experience available now to anyone who owns a modern smartphone. This is called Google Cardboard which turns your phone into the screen of a VR headset with the installation of one of many Google Cardboard apps and the purchase of a cheap headset to hold your phone. Yesterday our Merge VR headset arrived in the post (there are many alternative Google Cardboard compatible headsets available at various prices) and within minutes Rachael, my mum and I were experiencing various VR tours of the human body and we were all blown away by the experience.
The first app we tried was a free demonstrator app by Invivo which took us inside a blood vessel. The VR experience transported us inside a flowing blood stream and by rotating our heads we could watch as the blood cells streamed towards us, up and over our heads and then away past us and down the vessel. Within this app we could also direct our gaze to discover more information about the structures visible and move between two positions for different perspectives.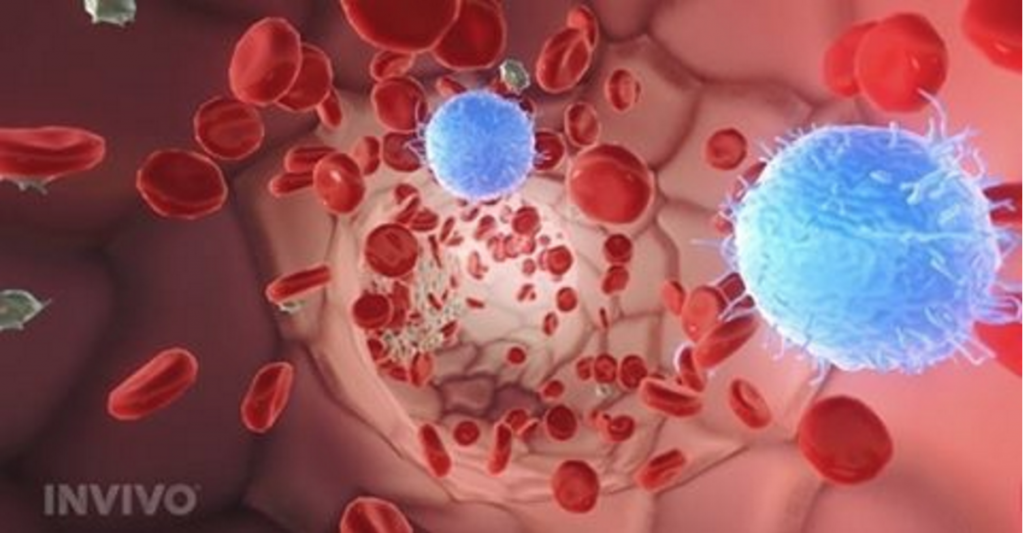 The second app called Stanford Health Anatomy Tours provided an experience more directly relevant to physiotherapy with options to explore and knee and hip joints (as well as the heart and ear). In this case the app took us on a journey around and inside these joints revealing and hiding bone and soft tissue structures and even illustrating common problems such as arthritic degeneration and an ACL rupture. The experience this time was like being stood next to a huge animated museum exhibit which towered over head, where you could also climb inside and take a look around. Rachael with her PT hat on, was immediately criticising the depiction of the knee cartilage however it was clear that this app is only a starting point. The most compelling example provided is an animated heart where you tour the pumping chambers and get to look around to see the walls moving and the valves flipping open and shut in a very memorable experience.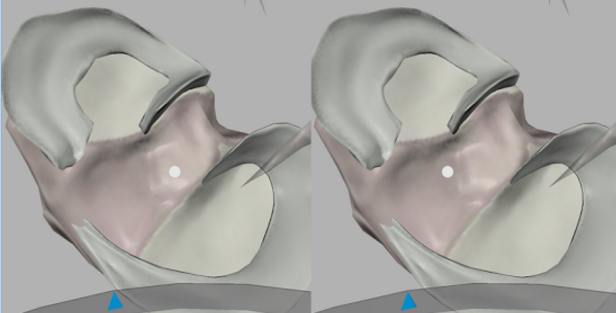 The third app called Anatomyou VR allows you to explore various systems within the body. This experience was like being perched on the very tip of an endoscope as it is threaded through the various connected vessels and organs of for example the digestive or circulatory systems. For training an endoscope operator these tours could be invaluable particularly as the graphics and animations improve.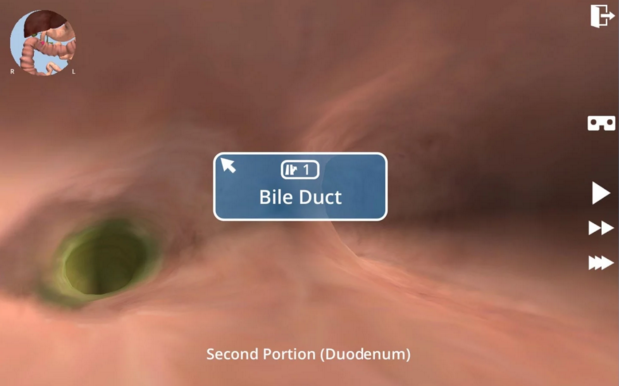 The final app we tried was something different, a VR game called Cardio VR where you took on the role of a doctor and treated cartoon patients arriving in your surgery by diagnosing their problems. To do this you turn on your x-ray vision to view their bones and organs. Once you locate their problem, they are miraculously cured within seconds and leave your consultation room thanking you profusely. It is only virtual reality after all! A very simple and fun game aimed at children but it demonstrated how VR can put you into a role playing situation where you are given an opportunity to practice interactions with situations and people. In time these interactions could be made richer and more complex, and potentially even involve real people playing each of the parts.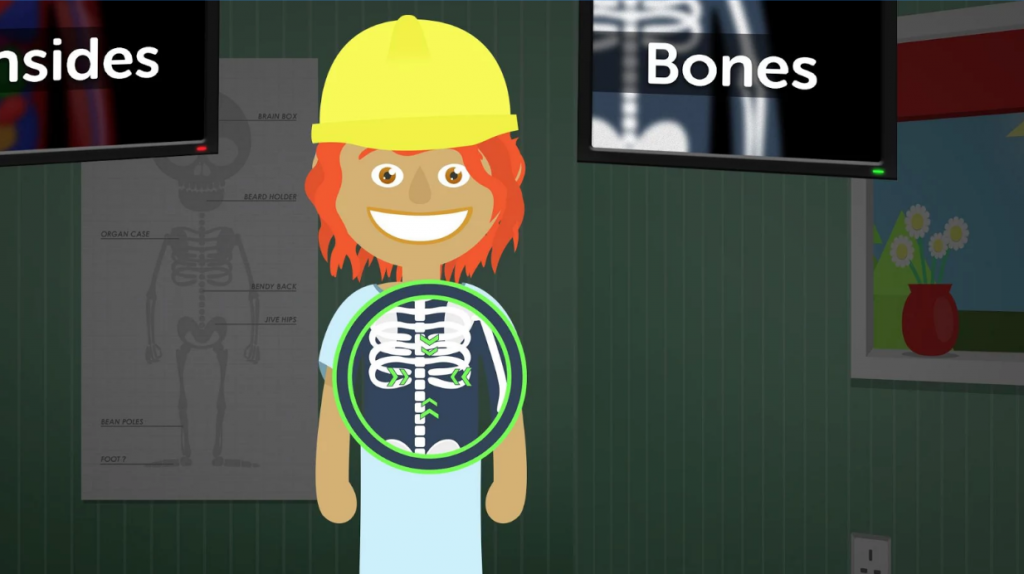 Even with only a couple of hours experimenting with a basic Google Cardboard headset and a handful of free apps it was clear to see how VR already provides a new and intense experience that has the potential to impact clinical education and treatment in physiotherapy. It really is an experience that has to tried to be fully appreciated.
Based on our quick test and some google searches we have identified several areas where VR based experiences could be utilised within physiotherapy:
Education:
Anatomy – the existing apps demonstrate how VR adds a significant new dimension for the teaching of anatomy with new perspectives providing very memorable methods of personal exploration. There is likely to be a great deal of interest in this application with lots of alternatives and competition!
Role play in consultation and treatment – VR will allow the user to experience first hand consultation scenarios from both the clinician and patient perspectives, potentially with other students or tutors taking on the different roles.
Expert demonstrations – VR could enhance technique videos through offering 3D views from multiple angles.
External access to live sessions – a well positioned or a mobile 360 camera will allow live teaching sessions to be streamed to VR users anywhere in the world. These virtual participants will be able to interact in the session with online communication tools and even move the camera position during the session.
Assessment – student performance in consultation, diagnosis and even treatment scenarios could ultimately all be carried out in VR where the identical situations could be repeated and individual performances recorded for analysis, feedback and marking.
Treatment:
Gamification of rehabilitation – the use of VR based games that include hand held controllers and perhaps even haptic feedback could transform tedious exercise programmes into an engaging enjoyable experience that patients actually look forward to doing.
Neuro-rehabilitation – VR based rehabilitation could intelligently encourage exercise progression to maximize neuro-plastic development. Developing products such as MindMaze show the potential that is already being exploited.
Pain desensitisation – the immersive nature of VR has already been proven to assist in overcoming issues of pain in burns patients when changing dressings or undergoing therapy. It seems likely that VR could also be used in various ways to manage and treat chronic pain. There are studies that have already shown how disconnecting body movement from visual feedback alters the onset of pain and can increase range of movement (Harvie et al 2015).
VR enabled home visits – the clinician would wear the VR headset and and patient provides a 360 camera at home (built into their internet connected home entertainment system) to allow a  richer and more immersive home visit where the clinician would be in a better position to observe and guide the client.
Balance training (Thanks to Selena Horner for that one!) – there has been some work done on this already but from what I can see the immersive headsets have yet to be used which I suspect could add significantly to the effectiveness.
I have no doubt these ideas are just the tip of the iceberg and you will be able to think of many more (please feel free to post any ideas in the comments section below).
If you are interested in experiencing more yourself… here are our tips on how to try VR now:
Purchase some compatible Virtual Reality goggles such as Merge VR oir search Amazon for "Google Cardboard" (check they are compatible with Google Cardboard and your make a model of phone).
Download example apps (search the Appstore or Google Play for "Google Cardboard")
OR
Visit the Physiopedia exhibition stand at any of the conferences we are attending over the next 12 months where we will have our VR headset available for you to try. We are attending the CPA Congress Victoria, IFOMPT Glasgow and ER-WCPT Congress Liverpool. I look forward to introducing you to VR there!