Four years ago at the WCPT conference in Amsterdam we were pretty new to the game, this time we were the wallpaper. Everyone knew us, people were coming over to find us and tell us how much they loved us, one person even told us that we had "saved their degree" which had me slightly concerned!! The vibe around our exhibition stand was a full three days of overwhelming happiness and positivity.
The pre-congress course that we presented with Michael Rowe on creating and running an open online course (spot the irony here!) was very well received.  Being academics and both titled doctors (the PhD kind) I left most of the work to the intelligent two, Tony Lowe and Michael Rowe.  However, I thoroughly enjoyed being in the room, contributing my experience of developing and running the two largest physiotherapy open online courses and seeing how engaged people were with the idea of running more open online courses.  If you're interested to see the course that the course participants worked through on the day, you can see it here.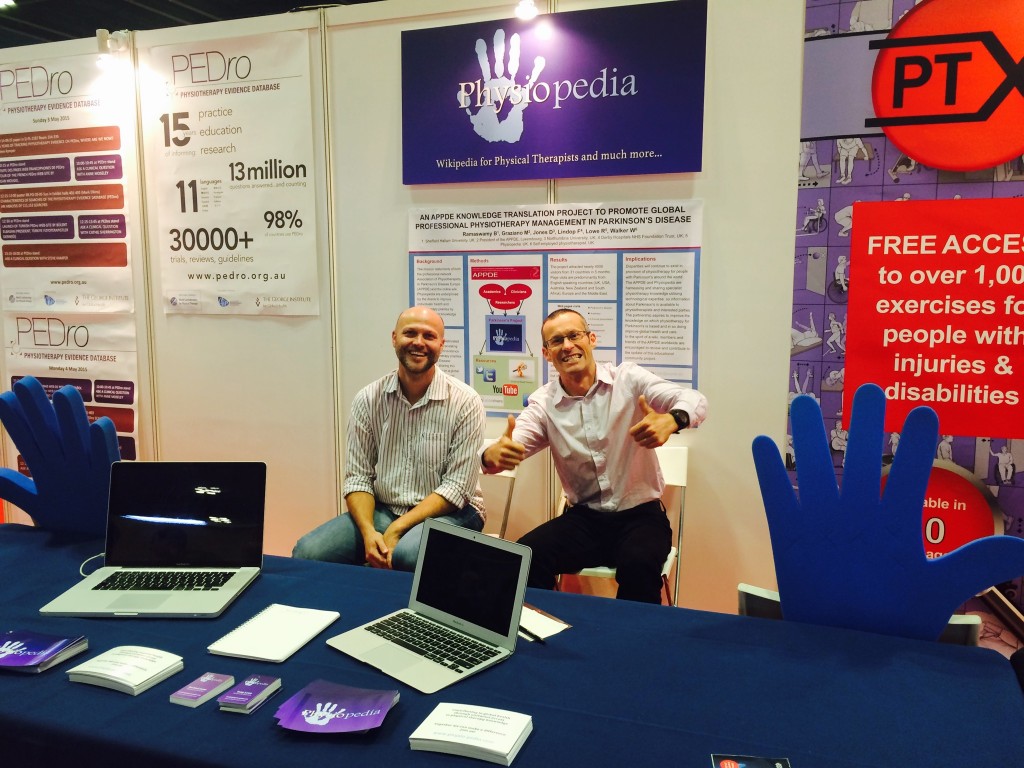 On Saturday afternoon we hosted a small drinks event with our academic content partner Elsevier where people were invited to meet and chat to Elsevier authors, Physiopedia friends and our fellow WCPT non-profit partners PEDro and PTExercises.  We weren't quite expecting so many people to attend but were delighted to be able to bring chaos to a small aisle of the exhibition hall for a short time.  I was most pleased to have discussed several new Physiopedia projects during this time including ideas with the distinguished Gwendolen Jull and Roberta Shepherd, watch this space…!
One of the most notable meetings of the conference for me was with the head of the profession in Mongolia. I've had a soft spot for Mongolia ever since my trip there over 20 years ago so I was particularly pleased to chat about how we might be able to assist developing the profession in their country. I am delighted that they have recently been admitted to the WCPT along with 8 other new member organisations.There were a couple of things that I failed to do at this Congress.  One was to take photos (note to self: must try harder next time).  The other was to attend sessions!  Apart from the Futures Forum, where I was most impressed with Dianne Milette's unique predictions for the future, I failed to make it to any other sessions.  My hope is that as time passes we will see more summaries of the discussions and presentations that took place for those of us who were unable to attend!
The most amusing thing for me to think about is where our big foam blue hands are now!  During the conference they were the stars of everyones photos.  We always give the blue hands away at the end of a conference, we have no idea where three of them are but one seems to be in Perth, Western Australia, doing the rounds at Men's Health events with Jo Milios otherwise known as @Prostatejojo.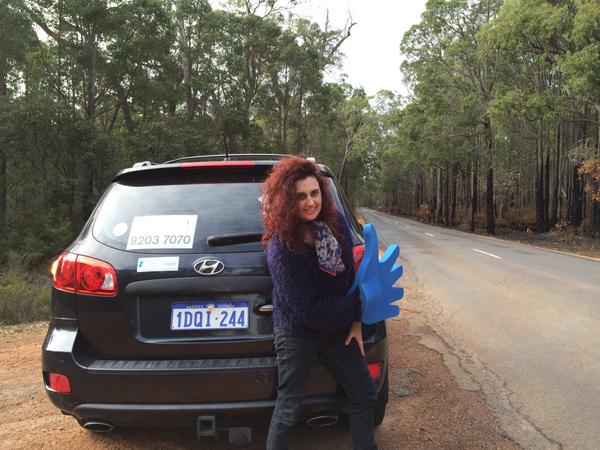 From a little side project that started 6 years ago Physiopedia has grown into something way beyond our expectations.  We are so excited for the future and what we might be able to contribute to our profession.  In particular I am looking forward to again reflecting on our progress at the next WCPT Congress in Cape Town in 2017.  This time only two years away so we have a lot of work to do!
Check out some other reflections on Congress from our community: