With the Apple Watch due for release on April 24th and a reported 39% of iPhone users considering buying the watch (Reuters 2015), 2015 is going to be a huge year for personal digital health tracking. So when Patrick Hulan got in touch this week I thought it a great opportunity to get an up to date perspective on how these technologies were already influencing physiotherapy/physical therapy practice. Working as both a physical trainer and PT tech he has an unusually broad perspective on the use of these devices.
Could you briefly introduce yourself?
My name is Patrick Hulan and I graduated with my bachelor's degree in Exercise Science at the University of Tennessee at Chattanooga and I am working as a PT tech at Vanderbilt Orthopedic Center in Nashville. I love the staff there and it in my opinion is perfectly set up in which coming right out of rehabilitation and given the go ahead on continued exercise, athletic trainers and personal trainers work hand in hand with the physical therapists which does wonders for these patient's quality of life post rehab.
Which tracking devices do you use and could you describe how and why you use them personally?
I currently use the Fitbit Charge HR and I personally use this version due to the more accurate caloric output and the heart rate monitor. Heart rate is one of the universally used methods of getting a feel for your client's or even in some cases patient's rate of perceived exertion. The Charge HR is fantastic as it is not required to wear a chest strap with a heart rate monitor which can be quite uncomfortable. It uses optic sensors for check for heart rate through the wrist and is very light weight. I have done several tests to delineate the true accuracy of the device in which it is +/- 3 to 4 beats per minute of it's chest strap's brother. This technology will only get better. It even works extremely accurately with high intensity cardiovascular exercise such as running, biking, rowing, etc. I have found that a misnomer occurs withing heavy resistance training in which there is an exponential vascular jump in heart rate and blood pressure. I believe the device's optical sensors see the high jump in pressure as a constant heart rate, and so registers a heart rate of 90-112 when the heart rate is clearly in the 160-180 range. It is not a perfect device but is ideal for most users.
Have you come across patients who are using such devices? If so which devices and what are they tracking and why?
Any time I have come across patients or clients with activity tracking devices, usually they are the Fitbit Flex, Force, or Charge which record only the number of steps and sudden elevation changes for caloric burn. Many people do not own heart rate trackers because they don't understand the importance in understanding the physiological aspects of exercise. I have seen more clients than patients using them because of the differences in demographics. Within my client pool the ages range from 15-59. These individuals come to specialists because they want motivation and they want to make a change in their lives. More than half of my clients have activity trackers because health is their goal.
Typically within the physical therapy office, I move from doctor to doctor helping patients in which the demographic range is probably around 5-99+. When you view the majority of physical therapy patients, you are typically looking at trauma related patients that have no choice but to get better if they want to maintain independence as an individual. I would say 10%-15% of these patients have activity trackers which in this group includes hundreds of patients. In most cases the demographic activity tracking in patients would be the younger generations 18-40. They use these devices for the same reasons, to keep track of caloric intake vs output and when they look down at their wrists it motivates and reminds them to stay active to get those 7,000-10,000 steps per day.
Have you used these devices in your management of patients and if so could you describe how?
For clinical purposes, the consumer devices are quite simple, however the information that these devices can give medical professionals such as physiotherapists and physical therapist is unrivalled. You are getting to look at a day in the lives of your patients. In essence, you are tracking their mobility! As it stands now, therapists rely purely on self reported data given by patients. Lets be honest and say that 85-90% of patients exaggerate how well they are doing in their prescribed exercises and in moving around. This is subject to intentional and unintentional bias which doesn't help the PT properly prescribe the proper progressions of an exercise. Not only does Fitbit have an edge in accuracy, but the online tracker is extremely easy to use. This is it's major benefit over most other digital trackers and so is ideal for those who are technologically challenged. Upon talking with patients about their devices I have asked with the PT's permission to view their logs and shown the PT what the data represents and how to use it.
How do you see these devices and their use by physical therapists/physiotherapists developing in the future?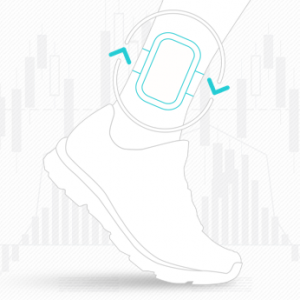 The future of these devices is potentially very profound. Ultimately I see a world in which everything you want to know about your body is captured and displayed on your wrist, but I think we will have to wait quite a while for that. For now, it is important to look and see what is available now and what information we can get from these devices. As I stated before, the Fitbit is extremely simple compared to the clinical watches that have been created like the CamNtech's MotionWatch, but these are just not as affordable. Eventually these watches will be able to help find connections between day to day movement and physical and musculoskeletal ailments like with the modus stepwatch. I believe unless prescribed by a medical professional, these more complex clinical devices would be too much for most patients to understand and to track, and it would be the medical professional's job to translate the data. For everyday use, the Fitbit is really all the everyday consumer needs. There are also consumer watches for VO2 calculation, blood pressure, heart rate, and even exercise form monitoring like the Atlas Fitness Tracker. A big driver for people to start using these activity trackers more widely will be when this data becomes incorporated into insurance policies and premiums. If people thought that they were actually accountable for their health and improving it would save them money then you would find what external motivator really causes people to change their quality of life. I believe ultimately documentation and accountability will save lives.