Harvest has flown by and so has the time! It's nearly Christmas but the good news is that all the buttons you have pressed since the last blog have created entries into your database and are stored waiting for you to run the reports! So why not give yourself a little seasonal bonus and sit back and relax and let me guide you through a veritable TM2 Christmas feast of finance reports ….
There are 20 standard finance reports in TM2 … that's a lot to digest … so let me pick my favourites and explain to you how they'll help you run your practice. The ones we are going to cover have the red arrow next to them!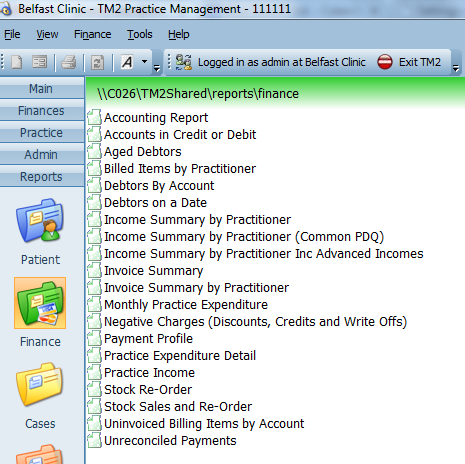 Aged debtors
This report shows you both patients and groups (insurance companies) who owe you money in different time periods. Simply those who owe you money past 90 days should be the ones you chase first and work your way backwards! This gives you a great view of who owes what and how long they have owed you it, essential!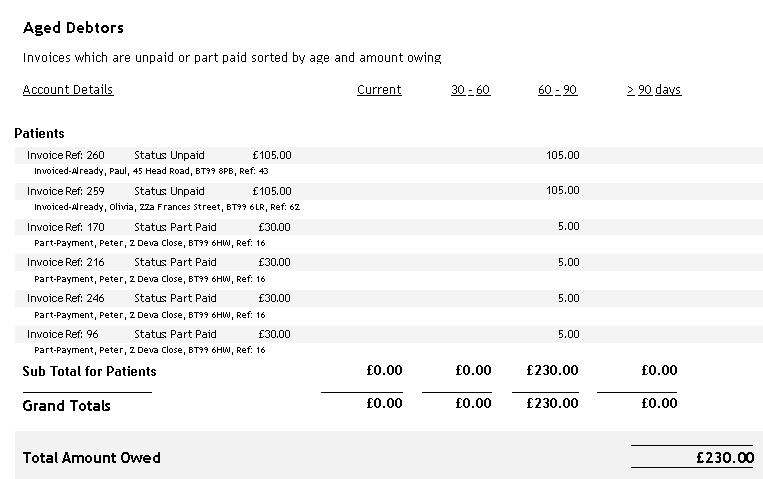 Billed items by practitioner
If you have self-employed practitioners working with you this is the report whereby you can create their "wages" at the click of a few buttons! It shows all the consultations delivered and also if you wish any stock they sell. When you run the report you will be asked for a date range, so if you pay your practitioners monthly set those dates, then you choose if you want to include consultancy or stock or both, then it will ask you if you want to include unpaid billing items in the report (if you pay your practitioners on appointments delivered then select yes), you can then choose to add practitioner commissions (if you have set them in the practitioner record), select a new page for each practitioner and finally select if you want cancellations and DNA's to be included (Phew!). It may seem like quite a few steps but what you end up with is a list that you can hand to the practitioners to check and for them to then invoice you for their services.
It will look like this …

Run your wage calculations in a couple of minutes … fantastic … more time for carols and mince pies.
Stock sales and re-order
As reception are selling patients physical sock items TM2 is keeping track of your stock sales and also tells you when you need to re-order products. Another job easily managed by TM2!

And finally ….
Un-invoiced billing items by account
This report will show you how much money is yet to be invoiced …. Remember … you're not going to get paid until you send out your invoices! If you are still invoicing monthly when you run this report you might think about shortening your invoice run periods. In the example below there's nearly 2k sitting there un-invoiced … now that would be a nice Christmas bonus!


So there you have it. Some festive financial reports to get your teeth into. Have a happy time and look out for the third and final part of this series of blogs in the new year.