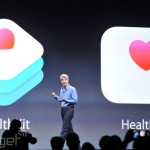 Google and Apple announce their health tracking platforms.  Apple's iPhone is going from part-time health stat monitor to full-time mobile monitoring unit. HealthKit is a new service coming to the iPhone that tracks, records and analyses your fitness level across a variety of metrics (sleep, movement, etc.). The way you use it on iOS 8 is through a new app called, simply, "Health." The initiative works with companies like Nike to bring all your health information into one place, under the Health app in the next update to iOS.  Not to be left behind by Apple, Google could soon launch its own health-tracking platform for mobile devices. Rumours are that he search giant is working on a new service, tentatively called Google Fit, which will pull in data from third-party fitness wearables and health apps and combine them into one central app. It's not known if Fit will be delivered as a standalone app or come embedded inside future versions of Android, but it would likely operate as Google-made version of Apple's HealthKit, a service that lets other companies feed in fitness data.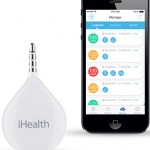 The iHealth Align has launched the worlds most portable blood glucose monitor. The meter plugs directly into a smart phone and displays and stores readings using the iHealth Gluco-Smart app.  By displaying readings directly on the phone screen, iHealth has been able to shrink the device size. The compact size and mobile sync capability make iHealth Align a small and powerful new tool for diabetes management. iHealth's Gluco-Smart app is used to store glucose readings and insulin injections, and to retrieve historic data to check on one's ability to maintain healthy blood glucose levels. The app also uploads all the data to the "cloud" where it can be accessed by the person's doctor, caretaker, or anyone else that has an access.
A new high-end electronic stethoscopes has been unveiled by Thinklabs Medical.  The Thinklabs One fits entirely into the chestpiece and works with any headphones of your choice. It can amplify sounds by more than 100x and provides a variety of audio filtering options to better hear heart murmurs, diastolic rumbles, lungs sounds, etc, etc.  The device can connect to tablets and smartphones to visually display the waveform of the audio using a matching app, which can also record and let you zoom in on specific spots in the recordings.  Additionally, the iMurmur app from Thinklabs provides a library of pre-recorded heart sounds that can be used to learn and maybe even compare against one's own patients.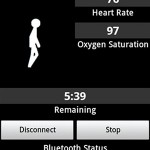 Researchers at University of Illinois have developed a smartphone app that essentially runs the 6 minute walk test continuously as long as the patient is carrying the phone. The GaitTrack app takes advantage of accelerometers built into modern smartphones, obtaining much more comprehensive data than provided by traditional pedometers. Coupled with a pulse oximeter, the app can record the gait along with the person's heart rate and blood oxygenation for a more complete picture of health. The researchers tested the app on 30 patients with chronic obstructive pulmonary disease (COPD) and found that the app is more accurate, and surely cheaper, than medical accelerometers already used in medicine. They discovered that the GaitTrack app was able to quite accurately predict a person's FEV1 test (Forced Expiratory Volume in 1 Second).