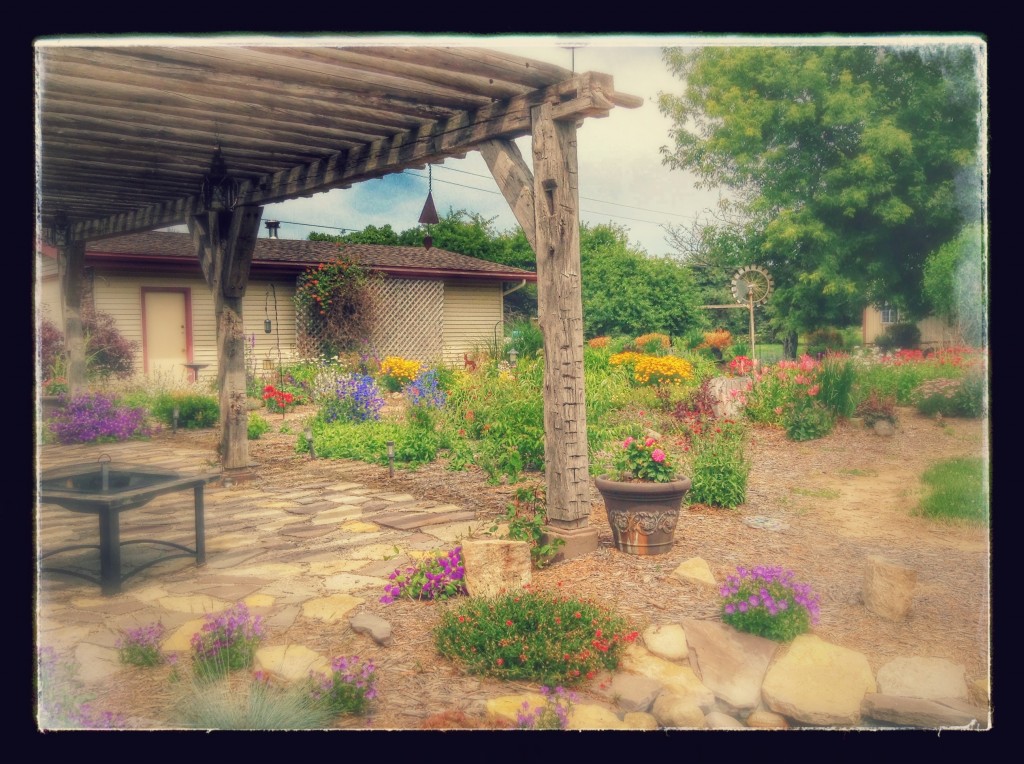 Welcome to my enchanted garden. Blues, yellows, purples, pinks, oranges, maroon, white, salmon – at this time of the year the garden pops with color! The plants attract hummingbirds, song birds and butterflies too!
Okay, okay… I know you're wondering what the heck does gardening and colors have to do with physiotherapists! Believe me, there's a connection.
Careers are like gardens. The initial stage of a physiotherapist career is the educational component. If I were to share this garden at that stage, it would be a very narrow strip near the windmill. In that strip would be large elm trees… that then died…. that were cut into 12 foot high stumps… which then had fence wire between them with a huge trumpet vine intertwined within and flowering… which then, to my dismay, rotted away after 12 years!
The garden doesn't appear that way now though, does it? As should be your career. Once you become a full fledged physiotherapist, although it feels like a huge accomplishment with a grand amount of debt, it's just the beginning. Just as my initial narrow elm tree garden evolved, so should you.
Gardens grow and change. My perspective changed over the years from a focus on common perennials to becoming specific to color and bloom time… which then led to wanting color and surprise in the early spring after the snow melts… to then desiring special color in the fall (in my area there is just WAY too much orange, gold and yellow to suit what my eyes like to see).
Gardens don't just automatically appear as you see in the photo. Oh, my, no! This garden was initiated 20 years ago! The part you don't see is kind of hidden in the bottom right – a little water garden. The spectacularness required a focused vision, planning, time, money and lots of weeding!
Have you sat back and contemplated your physiotherapist garden? If a professional snapshot of you from 5 years ago appears very, very similar to how you are right now, your "garden" has remained too narrow. You have professional weeds to pull – yes, what you knew 5 years ago is probably outdated and requires to be yanked from your professional practice or updated. Undoubtedly there are new skills and knowledge to be incorporated into your narrow garden to broaden it and improve it.
Options to grow your professional "garden" are limitless. I finally took time as a Physiopedia member to learn more about pain. As a self-learner, I appreciate growing my professional "garden" in a way that suits my needs. Time and money are factors involved with professional growth. Physiopedia understands the professional's needs: quality (relevant materials), time commitment (self-paced), affordable, individual (pick and choose topic to complete), proof of learning (passing quiz score).
What opportunities have you found that help you grow your professional "garden?"
Until next time,
~Selena