In November of the year 2012, Lauren Kealy (@LaurenrSPT) and Matthew Debole (@MattDebole), saw the potential in the "conversation network" that is Twitter. They sought to engage students of physical therapy in active conversation surrounding issues of vital importance to the advancement and growth of the physical therapy profession. What better way to engage this digital age then capitalizing on one of the most active social media websites to date, with over 115 million active Twitter users each month!
What started out as a simple collaboration among two Doctor of Physical Therapy students in the United States, has exploded into a worldwide conversation among thousands of students of physical therapy. This trending topic on Twitter has crossed the eyes of over 17 million twitter users in the one year since the inception of the #DPTstudent chat in 2012, leaving what this student believes to be a profound mark on the digital world!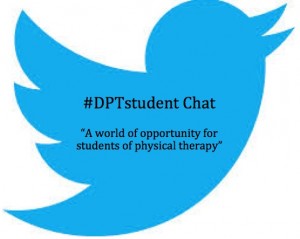 The hashtag DPTstudent has become a symbol of unity in the twitterverse among students of physical therapy and the professional physical therapists that inhabit it. Conversations range from topics surrounding benefits of being a student member within the various APTA sections, to building your online brand, to the importance of #PTadvocacy and maintaining a voice on behalf the profession. While each week the #DPTstudent chat focuses on a specific topic, the resounding theme each week is passion. Passion for what we do as students and what we hope to achieve in the rapidly approaching future for both our profession and our future patients.
What we have learned this past year, as students of physical therapy, is that the value of active conversation among other students and professionals is unquantifiable. Students who actively engage in the #DPTstudent chat weekly, on Wednesday nights at 9pm EST, have gained insight into the academic and professional world around them from the comfort of their own homes. They have sought out and engaged in endless mentorship opportunities and have left each week with curiosities peeked and burning questions answered from the various co-hosts that frequent the #DPTstudent chat.
As we wish a Happy Birthday to the #DPTstudent chat, we must extend our gratitude to all of the students and professionals that have made this movement possible. With the passing year, we wish the #DPTstudent chat continued success and look forward to the endless possibilities that may come from future collaborations among students of physical therapy and the professional physical therapy community.
"A single conversation across the table with a wise man is better then ten years mere study of book" – Henry Wadsworth Longfellow