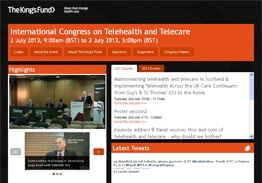 In a series of posts ahead of the 2013 telehealth and telecare congress, Mike Clark from Telecare LIN will be taking a look at the current progress for telehealth and telecare in England, and presenting the case for its adoption. The first post was published on their LinkedIn group this week.
This is the third year that the congress has been run and in order to expand the reach of the event beyond those who attend in person the organisers are offering free online access to highlights of the event.
Registration will give you free exclusive entry to the online site which features:
access to the live web cast of the plenary sessions from this year's congress with the opportunity to interact with the sessions in real-time
on-demand video content from 2012's congress
presentations, papers and materials from the 2013 congress
information from our supporters and partners
The online service will start with a panel debate on the pros and cons of telehealth and telecare on Tuesday 2 July (4.45pm GMT) which you can watch live at http://bit.ly/15vnmPp. Join the debate or follow on Twitter at #kft13.