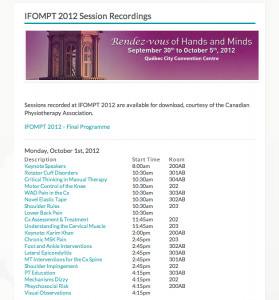 The Canadian Physiotherapy Association (CPA) have made audio recordings from the recent International Federation of Orthopaedic Manipulative Physical Therapists (IFOMPT) conference freely available for you to access online.
The World Congress of Manual and Musculoskeletal Physiotherapy took place in October last year in Quebec, Canada.  This conference occurs only once every four years and this year is the largest international gathering of physical therapists and physiotherapists specifically interested in manual and musculoskeletal physiotherapy.  The hosting organisation, the Canadian Academy of Manipulative Physiotherapy (CAMPT) hosted a fantastic event and a legacy to the event was created by the Physiopedia blogging team. The audio recordings from many of the sessions are now also available for free.  You can listen to all the keynote presentations and many of the symposia and workshops that took place.
These audio recording have been made available by the CPA represents over 12,000 physiotherapists, physiotherapist assistants and physiotherapy students. CPA membership brings with it a variety of benefits  to ensure career success and professional excellence including insurance & liability, affinity services, professional development, practice resources, publications, network & community.  For more information on joining the CPA if you're a Canadian living abroad, please explore their membership pages, or contact them directly.