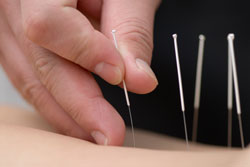 Dry Needling (DN) is considered to be a cost effective and efficient technique for the treatment of pain and dysfunction of Myofascial origin.  It is an approach that is based on western anatomical & neurophysiological principles. Myofascial trigger points (MTrPs) are commonly seen in both acute and chronic pain conditions and these have been cited as the most commonly missed diagnosis in chronic pain patients (Hendler & Kozikowski).
Many practicing physiotherapists possess skills in the area of acupuncture and dry needling (DN). These physiotherapists work in diverse fields such as musculoskeletal, sports, neurology, women's health, respiratory and animal physiotherapy.  Traditional acupuncture and DN techniques can be easily and seamlessly integrated into a physiotherapist's existing skillset and enhance their clinical effectiveness, as well as broaden the range of conditions that they can treat effectively.  In the UK acupuncture is now seen by many as an integral part of the physiotherapy package and recently a fact sheet on endorsement for acupuncture to inform physiotherapists about their obligations in relation to acupuncture by the APA.
The issue of whether the performance of dry needling (sometimes referred to as trigger point dry needling) is within the professional and legal scope of physical therapist practice continues to be a question posed to state regulatory boards, legislatures, and agencies in the USA. The APTA has recently developed several educational resource papers to assist components and practitioners on this issue.  The new APTA Resource Paper on the  Description of Dry Needling in Clinical Practice has been given the final green light. This online version of the new paper will be APTA member-protected for one month, after that, it will accessible to the public.
Where do you stand on the big debate?
APTA Dry Needling in Physical Therapy Resources
Safe Dry Needling Guidelines from the APA