We would like to welcome the American Academy of Orthopaedic Manual Physical Therapists (AAOMPT) as a new Silver Sponsor to the Physiopedia team.  Our readers know Physiopedia as an innovative project that supports the free dissemination of knowledge and collaboration within the global physiotherapy profession. Our sponsors know us as that too and it is thanks to the support of our valued sponsors that this we can continue to bring you this free resource.  In return we like to introduce our sponsors to our readers and let them know a little more about who they are and what they do.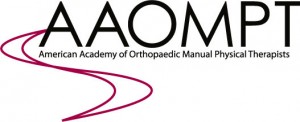 The AAOMPT encourage all physical therapists licensed to practice in the United States who have an interest in supporting and practicing orthopaedic manual physical therapy to join the Academy. The mission of the AAOMPT is to serve its members by promoting excellence in orthopaedic manual physical therapy practice, education and research, and to collaborate with national and international associations.The membership benefits include access to the members only section of this website, subscription to the newsletter Articulations and the Journal of Manual and Manipulative Therapy, and reduced conference fees for the Academy annual conference and educational programs.
To find out more about AAOMPT visit the AAOMPT page in Physiopedia or visit their website.
Interested to see our other sponsors, the exceptional physiotherapy and physical therapy related companies and organisations that support our mission of "universal access to physiotherapy knowledge"?  Have a look on our Sponsors page and thank them by following them using our Twitter list.
Interested in being a Physiopedia sponsor? As well as the general public, our readers are physiotherapists and physical therapists, and other health care workers from all over the world. To find out more about our sponsor packages, visit our sponsor page or email Rachael.