We would like to welcome EDUCATA as a new Silver Sponsor to the Physiopedia team.  Our readers know Physiopedia as an innovative project that supports the free dissemination of knowledge and collaboration within the global physiotherapy profession. Our sponsors know us as that too and it is thanks to the support of our valued sponsors that this we can continue to bring you this free resource.  In return we like to introduce our sponsors to our readers and let them know a little more about who they are and what they do.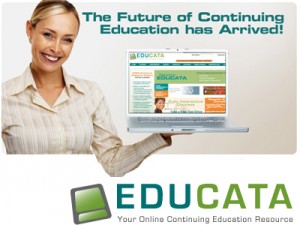 EDUCATA offers a wide range of online courses in many different specialities and an independent survey found EDUCATA to be the leading independent online provider of physical therapy continuing education. It uses an interactive Web 2.0 platform to deliver a unique learning experience where the student interacts with the platform via audio and visual presentations given by internationally recognized, award-winning educators. All courses are evidenced-based and lectures cover a broad spectrum of clinical subjects, from orthopaedics and pulmonology to geriatrics and oncology, as well as business topics for the independent practice owner. Students are awarded certificates of completion as proof of learning for states that require continuing education credits for license renewal purposes.
To find out more about EDUCATA visit the EDUCATA page in Physiopedia or visit their website.
Interested to see our other sponsors, the exceptional physiotherapy and physical therapy related companies and organisations that support our mission of "universal access to physiotherapy knowledge"?  Have a look on our Sponsors page and thank them by following them using our Twitter list.
Interested in being a Physiopedia sponsor? As well as the general public, our readers are physiotherapists and physical therapists, and other health care workers from all over the world. To find out more about our sponsor packages, visit our sponsor page or email Rachael.