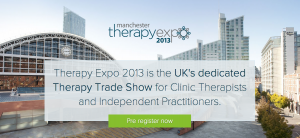 Keeping up to date with new equipment, software and other tools that help us to run efficient and effective clinics is always a challenge.  Therapy Expo an exciting new conference is one way to overcome this challenge.  It is the UK's dedicated Therapy exhibition running over 2 days on the 13th & 14th September 2013 at the fantastic conference centre in Manchester Central.  The two days will see a large Therapy exclusive exhibition with companies who offer products and services to clinic based and independent therapists – Physiotherapists, Osteopaths, Chiropractors, Sports Therapists, Massage Therapists, OT's, Pilates providers & Clinic Managers.
If you are interested in Equipment, Software, CPD, Insurance, Apps, Plinths, Braces, Othotics, Publications, Chairs, Splints, Massage balms, Taping……then this is the exhibition for you!  Running alongside the expo will be an exciting 2 day stream of CPD options which will include Sports Injuries, Therapeutic Techniques, Taping, Business Skills, Social Media, Research and specific treatment demonstrations.
Further details are available via the website http://therapyexpo.co.uk where pre registration is advised to be the first to hear of CPD options available and booking.  Additionally you can connect with TherapyExpo on Twitter (@TherapyExpo) or on Facebook (TherapyExpo).