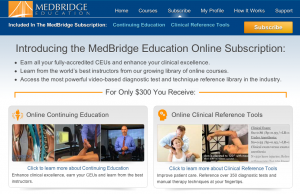 There are many online course providers out there for us to choose from and some are moving towards a subscription based model where you pay an annual fee to have continual access to all there courses.  Medbridge Education is one of these providers. They have a plethora of courses available to view ranging from 'Manual Therapy for the Cervical Spine' to 'The Running Athlete' and 'Osteoporosis and Osteopenia', with many more to come this Autumn.  All of these can be accessed individually on a course by course basis or you can sign up for just $300 per year to access all their courses.
MedBridge Education partner with leading professionals in their field to produce engaging online courses with 3D models to effectively show anatomy, motion graphics to display proper manual therapy techniques and case study based learning assessments, presented in a fun easy to use format to test your understanding of the course concepts.
The courses are streamed to offer smooth video playback even on slow internet connections and can also be viewed on your mobile device. You can view your course anytime, whether you're at home, the office, or your local coffee shop.   MedBridge Education is a convenient way to earn your CEUs at your own pace. Save time and money on traveling by taking courses online, without sacrificing quality.