PhysioTools, a Physiopedia Gold Sponsor, is launching two new products at the IFOMPT conference in Quebec next week.  With PhysioTools you can create high quality personalised exercise and information handouts. Select from the world's largest professional exercise library and print in multiple languages. They have a new Fracture Prevention module developed by the Oulu Deaconess Institute following a randomised exercise trial in elderly women and a new Neurodynamics module from Michael Shacklock.
Fracture Prevention by Oulu Deaconess Institute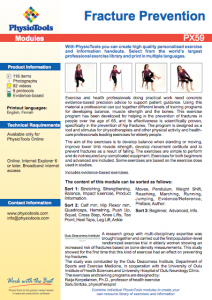 Using this material a professional can put together different levels of training programs for developing balance, muscle strength and the bones. This exercise program has been developed for helping in the prevention of fractures in people over the age of 65, and its effectiveness is scientifically proven, specifically in the prevention of hip fractures. The program is designed as a tool and stimulus for physiotherapists and other physical activity and healthcare professionals leading exercises for elderly people.  The aim of the exercises is to develop balance when standing or moving, improve lower limb muscle strength, develop movement certitude and to prevent fractures as a result of falling. The exercises are simple to perform and do not required any complicated equipment. Exercises for both beginners and advanced are included.
PX59 Fracture Prevention product card
Neurodynamics – Cervical Exercises by Michael Shacklock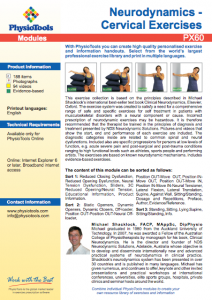 This exercise collection is based on the principles described in Michael Shacklock's international best-seller text book Clinical Neurodynamics, Elsevier, Oxford. The exercise system was created to satisfy a need for a comprehensive range of safe and specific exercises for self treatment in patients with musculoskeletal disorders with a neural component or cause. Incorrect prescription of neurodynamic exercises may be hazardous. It is therefore recommended that the therapist be trained in the principles of diagnosis and treatment presented by NDS Neurodynamic Solutions. Pictures and videos that show the start, end and performance of each exercise are included. The diagnostic categories inside are related to common spinal and neural dysfunctions. Included also are specific progressions for persons at low levels of function, e.g. acute severe pain and post-surgical and post-trauma conditions ranging to high functional levels such as athletes, sports people and performing artists. The exercises are based on known neurodynamic mechanisms. Includes evidence-based exercises.
PX60 Neurodynamics – Cervical Exercises product card
If your around at the IFOMPT conference next week be sure to call by the PhysioTools booth in the exhibition hall to get a demo!